Lee Boxell: New appeal on anniversary of 1988 missing-boy case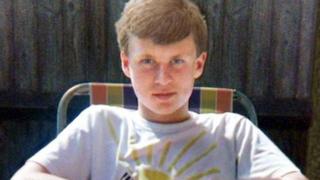 The father of a teenager who went missing 30 years ago has pleaded with the public to end his "limbo" and help reveal if the boy was murdered or is still living.
It was feared Lee Boxell, 15, may have been killed after witnessing child abuse at a teenagers' hangout near his home in Sutton, south-west London.
Monday marks 30 years since he went missing on 10 September 1988.
Lee's father Peter has issued a fresh appeal through charity Missing People.
"I have been living in limbo for 30 years, not knowing if he is alive, safe and well, or if he was murdered," Mr Boxell said.
"I am almost 72 now and do not want my life to end without discovering what happened to my son."
Scotland Yard said its officers were pursuing a new line of enquiry following fresh information, although there have been no new arrests.
Some 24 years after he went missing, police learned Lee used to visit an outbuilding at St Dunstan's Church dubbed "the Shed", a gathering place for teenagers that was targeted by a number of sexual predators.
It is possible that he had gone there to meet friends on the day he went missing.
In 2013, the Met carried out its longest ever forensic archaeological dig. Officers spent a year excavating St Dunstan's churchyard but nothing was found.
The following year, three men aged between 41 and 78 were arrested on suspicion of Lee's murder, conspiracy to pervert justice, and indecency with children.
A woman, 42, was arrested on suspicion of conspiracy to pervert justice and indecency with children. All were released without charge.
Mr Boxell and his wife Christine, of Cheam, south London, have kept Lee's bedroom just as it was when they last saw him.