7/7 London bombings: Memorial for bus explosion victims unveiled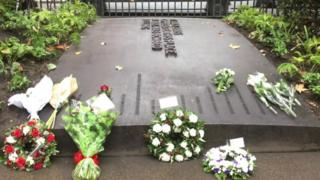 A memorial honouring victims of the 7 July London bombings has been unveiled.
The Tavistock Square Gardens memorial honours the 13 people who died when the number 30 bus exploded in front of the British Medical Association office.
It also recognises the efforts of the emergency services and the public who helped in the attack's aftermath.
Fifty-two people died and 700 were injured in terror attacks on London's transport system on 7 July 2005.
A one minute silence was held at the unveiling of the memorial - which features the names of the 13 victims.
"It is hoped the memorial will be a focal point for the survivors, the families and also London's finest, our emergency services, who did what they had to do on that day," Philip Nelson, chair of the 7/7 Tavistock Square Memorial Trust said.
"Above all it will send a powerful message that 7/7, and those who lost their lives, will never be forgotten."
Azuma Wundowa, who's mother Gladys was killed in the blast, called the memorial "bittersweet".
Ms Wundowa said: "It's lovely to have something with her name engraved that will always be here, but you never expect to see the name of someone you love engraved in a memorial.
"You never forget. My life is in a different place and there's a new level of grief for the fact that they're not here for certain life events."
The bombing of three Tube trains and a bus was carried out by four bombers linked to al-Qaeda carrying rucksacks of explosives.
At just after 08:50 BST on 7 July 2005, three explosions took place on the Underground - 26 people died at Russell Square, six at Edgware Road and seven at Aldgate.
Almost an hour later at at 09:47 BST, the fourth device was set off by Hasib Hussain on a double-decker bus in Tavistock Square.
The target was London's transport system, at the end of the morning rush hour.
The number 30 bus was torn apart in front of the British Medical Association headquarters in Bloomsbury, where a conference was being held.
Inquests into the death heard that while medical equipment was lacking, dozens of doctors were on hand to offer lifesaving expertise.