Young men died in 'series of attacks' in London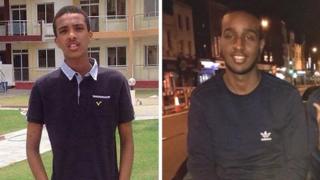 Two young men were stabbed to death in a series of violent attacks across London, a court heard.
Abdikarim Hassan, 17, and Sadiq Aadam Mohamed, 20, died within hours of each other in Camden on 20 February.
The Old Bailey was told they were among five victims attacked by a group of men between 20:15 and 22:15 GMT, following a gathering to mourn the death of another murdered teenager.
Ben Drummond and Isaiah Popoola, both 19, deny murdering the men.
Mr Hassan became the second target when he was knifed in the back and chest at about 20:20 as he walked along a street in Kentish Town.
Five attacks in two hours
The stabbing followed an attack at about 20:15 by two men on Yusuf Ahmed, then 24, and a 17-year-old in Aldenham Street, near Euston station.
The 17-year old suffered serious injuries but survived, the jury was told.
A third attack took place in Pembury Circus in Hackney, east London, when a man was allegedly surrounded by a group of seven men before being punched and kicked. He escaped without any serious injuries.
No-one was injured in a fourth incident in North Road, Islington, shortly before 22:00, when CCTV cameras filmed a man being chased by men who emerged from a blue Transit van, the court heard.
Jurors heard Mr Mohamed died in the final attack in Malden Road, Camden, when he was chased and repeatedly stabbed by four men after trying to take refuge in a stationary car, before he was dragged out and set upon.
Violence followed mourning
Mr Popoola later told police on the night of the killings he had been at a gathering on the Peckwater estate, in Camden, to mourn the death of his close childhood friend who had been murdered days earlier.
Mr Popoola, of Grafton Way, Fitzrovia, is charged with murdering Mr Hassan and Mr Mohamed, wounding a then 17-year-old boy with intent, attempting to wound Mr Ahmed with intent and violent disorder.
Mr Drummond, of Ingestre Road, Kentish Town, is charged with violent disorder and the murder of Mr Mohamed.
Both defendants deny all of the charges.
The trial continues.