Maajid Nawaz tracks down 'life-saver' after 25 years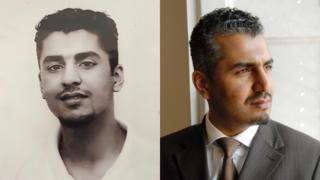 A political activist has tracked down an anonymous "hero" who was stabbed and beaten for defending him from a racist mob 25 years ago.
Maajid Nawaz, a British-Pakistani born in Essex, was 15 when he was confronted by a group of skinheads armed with hammers and knives.
A passer-by intervened but was attacked by the mob at a fair in Southend.
Mr Nawaz, who is now a radio presenter for LBC, said he plans to meet up with the man on Thursday.
The anti-extremism campaigner told the BBC: "I was on the verge of tears speaking to him.
"He told me was a serving army officer at the time and was used to stepping in when he saw bad things happening all over the world, and he saw something wasn't right.
"This is clearly a man used to doing he right thing out of a sense of duty."
Despite being physically unharmed in the attack in 1993, Mr Nawaz said it had a huge impact on his life.
He said it led him to "segregate" himself from his "white friends" and when he was 16, Mr Nawaz joined the London-based Islamist group, Hizb ut-Tahri.
He was imprisoned in Egypt for four years but released after being adopted by Amnesty International as a "prisoner of conscience".
Mr Nawaz then renounced his extremist views and returned to the UK to launch a foundation to tackle extremism, Quilliam.
The memory of the man who saved him played a key part in his transformation, he said.
Mr Nawaz hopes to convince his "hero" to go public.
"Everything this guy represents could help heal the divides in this country," he added.