Walthamstow shooting: Teenager's death sparks murder probe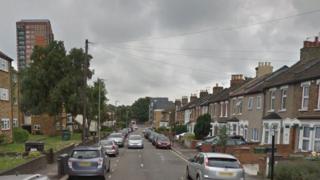 A teenager has died after he was shot in east London, sparking a murder probe.
The 19-year-old man was rushed to hospital by friends after the incident in Walthamstow, at about 23:00 BST on Saturday.
The victim was pronounced dead at 23:38, the Metropolitan Police said.
Officers said they were called to Vallentin Road after the incident and are appealing for witnesses. No-one has been arrested.
"The victim - a 19-year-old man - was driven by friends to a north-east London hospital, where he was pronounced dead", the force said.
"Officers believe they know his identity, but await formal identification and confirmation that next of kin have been informed."
It comes less than 24 hours after a 20-year-old man was killed in a "senseless" stabbing at a house party in north-east London.
There have been more than 100 murders in the capital so far this year.