Council under fire over contractor's £2m fraud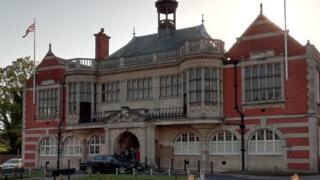 A local council in London has come under fire after a report revealed how it failed to stop a contractor from stealing £2m from it.
Former council worker Trishul Shah diverted money from Barnet Council for fake property transactions between 2016 and 2017 while working on a joint outsourcing venture led by Capita.
He was sent to jail for fraud in July.
Council leader Richard Cornelius who is facing calls to resign said the money was recovered.
An independent council-commissioned review by consultants Grant Thornton said the fraud only came to light when Mr Shah's own bank sounded the alarm, according to the Local Democracy Reporting Service.
The review, which was published on Friday, concluded that the council's and Capita's financial controls were "inadequate" and that the fraud could have likely been prevented had they been effective.
Shah used his "intimate knowledge" of the council's financial processes to "perpetrate and conceal" his fraud while working for Regional Enterprise (RE), a 10-year deal the council entered into with Capita in 2013 to provide public services.
RE, which is controlled by Capita, was set up to provide everything from planning and building control to trading standards, highways, cemetery and crematorium services, regeneration and environmental health.
'Not able to run services'
Barry Rawlings, leader of the Labour group at Barnet Council, said the report revealed "incompetence of scandalous proportions" and called on Mr Cornelius and deputy leader Dan Thomas to "take responsibility" and step down.
He added: "The council are clearly not able to manage this kind of commercial relationship, and Capita have demonstrated they are not able to run key services to a basic standard."
Mr Cornelius said: "The most important thing to consider in all of this is that we have ensured that the money was recovered, with no loss to the public purse.
"Action was taken as soon as the issue was identified, we are holding our contractor to account and have made necessary changes."
Capita said it accepted the "need for improvements in financial and governance controls", but it believed the report presented a "limited and highly caveated review".
Shah was jailed for five years at a hearing at Harrow Crown Court on 31 July after pleading guilty to two counts of fraud by abuse of position.