David Beckham will not face speeding prosecution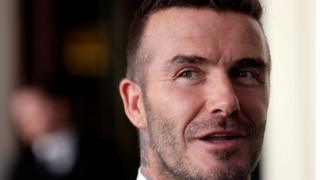 David Beckham will not be prosecuted over a speeding charge, a district judge has ruled.
Celebrity lawyer Nick Freeman, known as Mr Loophole, successfully fought the allegation for him on a technicality.
The former England football captain, 43, was accused of driving a loaned Bentley at 59mph in a 40mph zone on the A40 in Paddington on 23 January.
However, Mr Freeman had argued a speeding notice arrived one day too late.
Beckham, who did not attend the hearing at Wimbledon Magistrates' Court on Thursday, had previously entered a not guilty plea.
Mr Freeman said Beckham was "very relieved with the verdict".
The lawyer previously helped Beckham overturn an eight-month driving ban in 1999, after successfully arguing he was trying to escape a paparazzi photographer.
Mr Freeman suggested the more recent matter could have been a case of poor postal service, citing a subsequent letter sent first class by Bentley to Scotland Yard which took eight days to arrive.
He said: "Unfortunately and sadly some post attracts problems. There might be nobody at fault here."
District judge Barbara Barnes said a Notice of Intended Prosecution (NIP) was sent on 2 February and should have arrived at Bentley Motors Ltd, the registered keepers of the vehicle, by 6 February.
However, she was satisfied on the evidence heard it did not in fact arrive until 7 February - one day outside the statutory 14-day window.
Summing up, she said the law allowed for the "vagaries" of the postal system to be taken into account.
She said: "What I find is the fact it did not arrive in the post room of Bentley Motors Ltd until 7 February and therefore was one day outside the legal limit.
"The defendant in this case cannot be convicted."
---
Analysis
Solicitor Nick Freeman has been dubbed Mr Loophole for his success at using legal technicalities to get celebrity clients acquitted of driving offences.
His clients have in the past included cricketer Andrew Flintoff, explorer Sir Ranulph Fiennes and golfer Colin Montgomerie.
In 1999 Mr Freeman successfully defended former Manchester United manager Sir Alex Ferguson, who had been accused of driving down the hard shoulder of a motorway.
His defence? Sir Alex was simply looking for a toilet because he had an upset stomach.
More recently, last October, Manchester magistrates threw out a speeding offence against TV personality Paddy McGuinness after accepting Mr Freeman's argument the prosecution had failed in its legal duties by not providing any documents or evidence to the defence.