London Underground strike to go ahead as talks collapse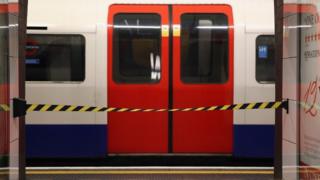 London Underground passengers will face 24 hours of disruption on two Tube lines after talks to prevent strike action collapsed.
There will be no service on the Central Line or the Waterloo and City Line throughout Friday.
The action by the drivers' union Aslef is part of a dispute over working conditions.
Talks at the conciliation service Acas broke down on Thursday afternoon without agreement.
Aslef's Finn Brennan said the strike action was over a number of issues including "unsafe" working practices.
"Drivers are continually forced into overtime and unsafe new working practices are pushed through without agreement," he added.
"It would be a dereliction of our duty as trade unionists if we did not take action to stop our members being treated like this."
The strike by Central Line drivers will mean the Waterloo and City Line will also be closed for the entire day.
This is because the trains are from the same stock and therefore have the same operating system - so all Waterloo and City drivers are also Central Line drivers.
A 48-hour strike by rail workers on South Western Railway will also begin at 00:01 on Friday, affecting services to London Waterloo.
Transport for London advised passengers that Thursday's trains would run as normal until the final service at just after midnight on Friday, but that there will be no service after that - including on the Night Tube which would normally run into Saturday morning.
Nigel Holness, director of Network Operations for London Underground, called the strike "needless" and apologised to commuters for the "unnecessary disruption".
He said recent talks between the parties over the action had been "positive" but they had "not been able to agree on the reinstatement of a train driver who was dismissed for a serious breach of our safety regulations."
Another strike is scheduled for 7 November, and members of the RMT union took industrial action on the Piccadilly Line last week in a separate row.