London smell: Reports of 'acrid, noxious' odour across the city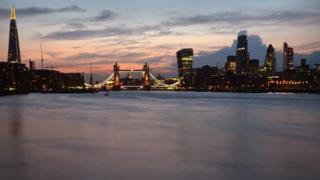 There have been reports of an "acrid, noxious and strange chemical smell" across parts of London.
The odour appears to be affecting areas stretching from Victoria to Wapping in east London as well as areas in the south-east such as Bermondsey, Rotherhithe and Camberwell.
Lana Preston, 51, of Bermondsey, told the BBC she is worried it might be "something hazardous or poisonous".
The London Fire Brigade said it had not received any such reports.
A spokeswoman said the LFB could not investigate unless people call 999.
Ms Preston said the smell was so strong it felt as though it was "stuck in the back of [her] throat".
'Like Dettol meets battery acid'
She added: "It's like a very strong smell - like a sweet rubber smell. I've never smelt anything like it."
Ms Preston also said she believed the smell was linked to a foggy haze over London.
You may also like:
Many people took to Twitter to voice their concerns.
One Twitter user said the air in the capital smelled "like chlorine" while another one described it as "noxious" and "like chlorine meets TCP or Dettol meets battery acid".
People also reported there was a "strange chemical smell" in Wapping.
Anastasia Yankevich tweeted there was an "odd smell lingering around London all day", while another wrote simply: "The air in central London stinks".
The Health and Safety Executive said it has had no reports that could be linked to the smell.
The Environment Agency has had no reports of a smell, a spokesman confirmed.