Thousands of Met Police officers 'want spit hoods'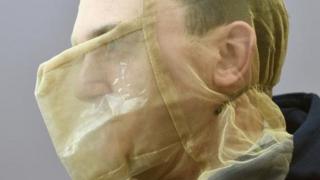 Thousands of police officers in London believe they should be given a spit hoods as part of their equipment, a survey has revealed.
Data gathered by the Metropolitan Police Federation, which polled more than 5,500 officers, showed 92% in favour of wanting to have spit guards.
The Met's Commissioner Cressida Dick previously said front-line officers would not be given spit hoods.
However, the force said it "welcomed" the survey's results.
According to the Met Police Federation, 2,331 of the Met officers surveyed said they had been spat at on duty in the last two years.
Another 562 respondents said they had been bitten on duty in the past two years.
The federation's chairman, Ken Marsh, said the survey highlighted officers' concerns for spit hoods to become a crucial part of their equipment.
He said: "Being spat at is abhorrent. My colleagues do not in any way deserve to go to work and be assaulted in this manner."
Speaking at City Hall in September, Ms Dick said she was waiting for evidence from other forces and the Police Federation on instances when a spit guard would have helped.
The Met Police said it welcomed the survey's results and "shared the view" that officers being spat at or bitten was "completely unacceptable".
A spokesman added: "The survey doesn't ask details about the circumstances of the spitting incidents.
"We want and need to understand more about how many of these instances could be prevented, as spit guards should only be used once an officer or member of staff has already been spat at and therefore do not stop officers being spat at on the first occasion."
The Met says it will now be working with the Police Federation and other forces to review best methods and equipment.