Prince Charles meets London Ambulance Service workers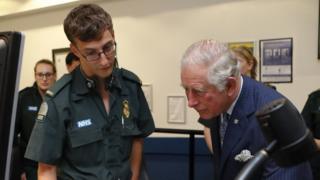 The Prince of Wales spoke to paramedics about their mental wellbeing during a visit to the London Ambulance Service (LAS).
Prince Charles visited the headquarters of the UK's busiest ambulance service in Waterloo Road, south London.
He spoke to call handlers and nurses as well as leaving staff "super impressed" by his role in a defibrillator demonstration.
He also met a new team dedicated to helping people in mental health crises.
Community defibrillation manager Lynsey Grant was delighted when the prince joined in with her defibrillation demonstration.
He zapped a dummy with electricity in the heart-starting demonstration.
Ms Grant said the prince was trained in CPR and was genuinely interested in the life-saving practice.
"I'm super impressed," she added.
Prince Charles also spoke with team members forming a "mental health joint response car" which LAS said was the first team of its kind in the country.
It hopes the rapid-response team will reduce stress on ambulances, with nearly 10% of emergency calls to LAS from people experiencing mental health problems.
Heather Lawrence, chair of LAS, said it was a "privilege" to introduce Prince Charles to her staff.
His visit comes about 18 months after his son, the Duke of Sussex, visited the 999 control room at LAS to talk about wellbeing.
Prince Harry's visit was part of the Heads Together campaign he founded with the Duke and Duchess of Cambridge.