London Fire Brigade officers and dogs' new golden kit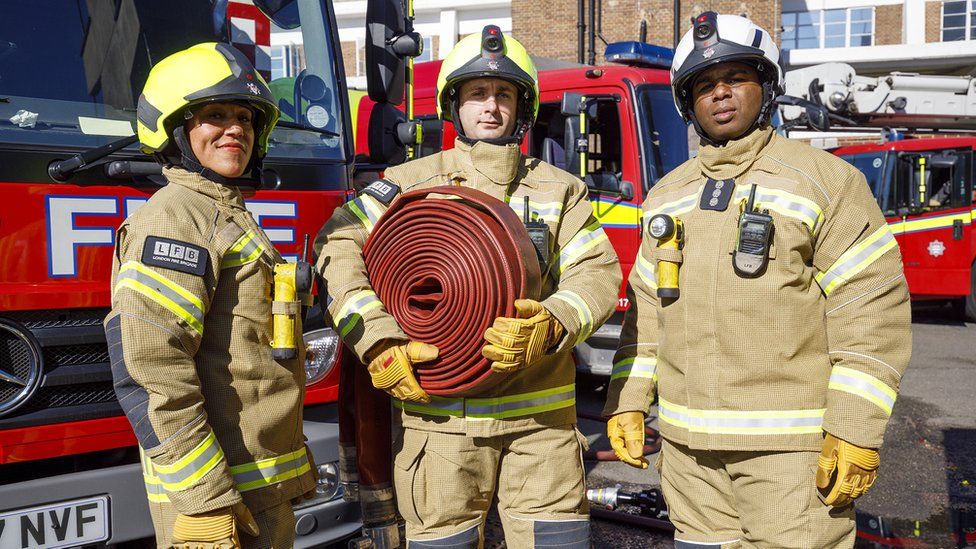 London's firefighters and their specially-trained dogs have been given new gear as part of the brigade's biggest kit update for eight years.
Gold-coloured fire tunics and leggings form part of the modernised personal protective equipment (PPE) rolled out by London Fire Brigade (LFB).
The brigade's 4,800 firefighters and officers, and its two investigation dogs, will all be given the new gear.
LFB's deputy commissioner said the kit sets a new "gold standard".
The tunics will show up dirt and damage more easily than the old navy-coloured kit, as well as being lighter and more durable.
Lightweight rescue gloves will also allow more dexterity for use at non-fire related incidents, such as car crashes.
New helmet torches will be used in addition to chest torches officers already wear to increase visibility.
Meanwhile Sherlock and Simba, the brigade's investigation dogs, have new paw protection boots for their work at the scene of fires.
The dogs also have golden tunics to match those of the firefighters - but these will only be worn at community events such as fire station open days.
Deputy Commissioner Tom George said the new PPE was subject to "rigorous testing in real fire conditions and other rescue scenarios" before it was signed off.
"We've come a long way since the days of woollen tunics and plastic yellow leggings and the iconic thin plastic yellow leggings," he added.
The new uniform costs the brigade about £480 per firefighter.
LFB worked with brigades across the country to design the equipment.
Teams in Scotland, Tyne & Wear, Hampshire and Buckinghamshire are already wearing the new kit, while Kent Fire and Rescue Service is expected to adopt the same gear in 2020.
Related Internet Links
The BBC is not responsible for the content of external sites.