Hackney families' legal bid against special needs cuts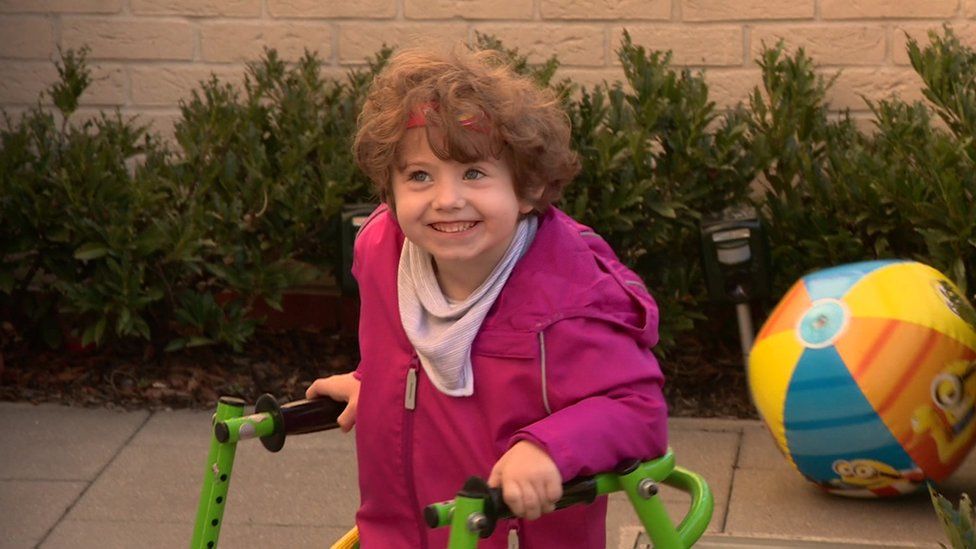 Families have taken a north-east London council to court over cuts to services for children with special educational needs and disabilities (SEND).
Hackney Council's cuts will see current spending reduced by more than £300,000 over the next academic year.
John Roden said the council "ignored concerns" about the way the cuts would affect his five-year-old granddaughter, Hope, who has a rare genetic condition.
The council said it was "on the same side" as the families.
A two-day judicial review at the High Court began on Wednesday, following similar cases in Surrey and Bristol.
Alongside three other families, Mr Roden and his wife Hilary are arguing that two council policies, including one which will see current spending reduced by more than £300,000 for the next academic year, are unlawful and result in "prejudice" to their children and others in Hackney.
Mr and Mrs Roden's granddaughter, Hope, has a genetic condition called glutaric aciduria (GA1), which means her body cannot break down certain foods.
She uses a frame to walk and communicates mostly through Makaton, a simple form of sign language.
Mr Roden said that while Hope's teachers at Thomas Fairfield Community School "do their best" to help, her "significantly outdated" education, health and care (EHC) plan is "holding back her development".
"Throughout all of this the council has just ignored our concerns. We didn't want to take this to court but we feel we have been left without any choice," he said.
"We just want what's best for Hope."
Hackney Council is defending the case and said there has been no prejudice to the claimants.
A councillor said the local authority was "on the same side" as the families "in that we both want all children in Hackney to have the very best start in life".
However, Chris Kennedy, cabinet member for SEND, said the authority's method of using "reserves" to fund support for the increasing number of children with EHC plans was "not sustainable".
"The only thing that will really make a difference is for the government to adequately fund special needs education," he added.
The Department for Education has been contacted for comment.
Related Internet Links
The BBC is not responsible for the content of external sites.