Rough sleeping: Record numbers recorded in London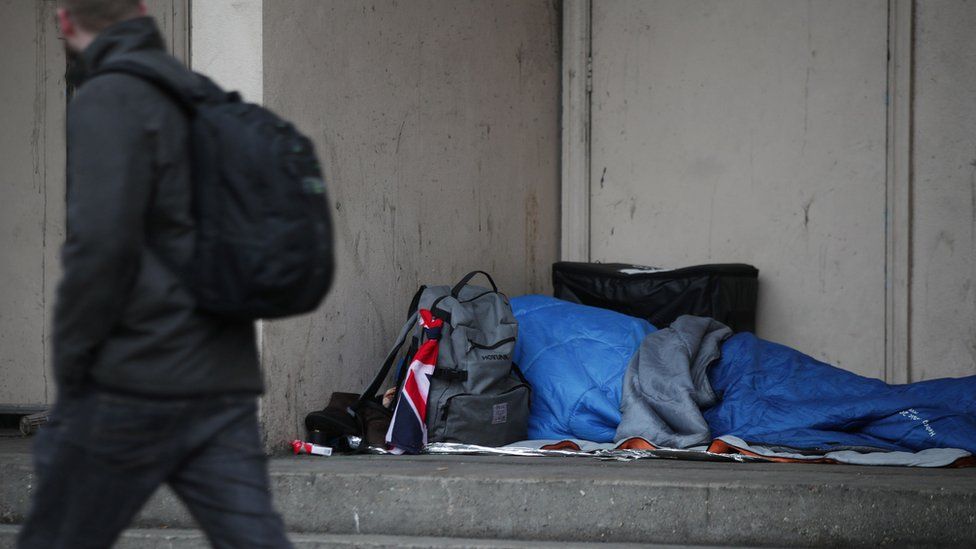 A record number of people are sleeping rough in London, new figures show.
A total of 3,103 rough sleepers were found in the capital between July and September 2018, the highest figure since records began.
The number has risen by 20% on the previous three months, according to Combined Homelessness and Information Network (CHAIN).
Housing charity Crisis called the spike "a disaster for every single person experiencing life on the streets."
Crisis Chief Executive Jon Sparkes, said: "Across the capital, local authorities are struggling with increasing numbers of people new to the streets, which is why the root causes of the problem must be tackled.
"We don't have enough affordable housing that homeless people can access; we don't have a strong enough welfare system to support people when they fall on hard times; and we aren't giving people in the most vulnerable situations a place to call home when they have nowhere to turn."
Over the same period, outreach teams recorded 1,382 people sleeping rough for the first time, up by 28% on the previous period.
In contrast, the number of people living long-term on the streets - those who have had a high number of contacts over three weeks or more - had dropped to 340 from 393 according to the multi-agency database.
CHAIN is commissioned and funded by the Greater London Authority and managed by homeless charity St Mungo's.
It represents the UK's most detailed and comprehensive source of information about rough sleeping.
Housing and Homelessness Minister, Heather Wheeler, said: "We have set out bold plans backed by £100m to halve rough sleeping by 2022 and end it by 2027, as part of a £1.2bn investment in tackling all forms of homelessness.
"We are also working closely with London boroughs and the Greater London Authority and are providing them with £23.3m through our Rough Sleeping Initiative.
"With this funding, we are looking to them to deliver critical support to get people off the streets."