Sony Music stabbing: Two injured at firm's Kensington HQ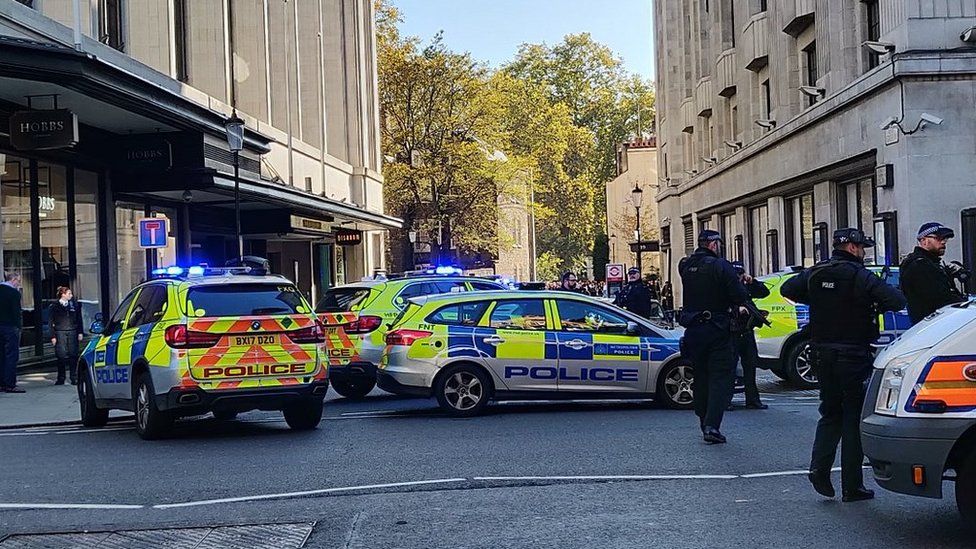 Two men were stabbed during a fight between kitchen workers at Sony Music's headquarters in central London.
Firearms officers and paramedics were called to the building in Derry Street, Kensington at about 11:00 GMT.
One member of Sony staff said the catering workers had been "running around chasing each other." Both were later arrested by police.
The Met said there was no evidence of any firearms involved and it was not being treated as terror related.
In a statement, Sony said two members of the catering team had been "involved in a violent altercation" and it was being investigated by police.
The member of staff, who did not want to be named, said they had heard "screaming and running and people slamming doors".
They added the two kitchen workers were "slashing each other up".
They have both been held on suspicion of causing grievous bodily harm.
People were evacuated from the building and roads nearby were closed "as a precaution".
Alex Iszatt, who works in a building opposite, said she saw "loads of people" coming out of the Sony building.
"Then running down the road came a whole host of armed police officers, followed by paramedics," she said.
London Ambulance Service said paramedics had taken one person to a major trauma centre and another was taken to hospital.
Neither of those stabbed suffered life-threatening injuries, Scotland Yard said.
Related Internet Links
The BBC is not responsible for the content of external sites.