Clapham South stabbing: Boy killed outside Tube station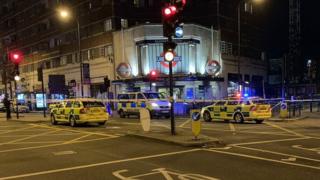 A 17-year-old boy has been stabbed to death outside a Tube station in south-west London.
Police found the injured teenager outside Clapham South station in Balham Hill, Wandsworth, after being called at about 16:35 GMT.
The Met Police said the boy was taken to hospital where he died shortly afterwards from his injuries.
Officers have cordoned off the road and pavement around the Tube station, which has been closed.
There have been no arrests, the Met said.
Charity director Robin Pritchard, 47, said he saw the victim lying on the ground in a "pool of blood" as someone gave him CPR.
"It was strangely calm and quiet. I think everyone was in shock," he added.
Another witness, who did not want to be named, said he saw "a bunch of guys" shouting and appearing agitated, with one carrying a large knife.
He added: "I had no idea it was different to any other time the students get a bit noisy, until I saw the knife as I was literally passing them."
Police said the boy's next-of-kin had been informed, but he is yet to be formally identified. A post-mortem will be held later.
The victim is the second teenager to be knifed to death in London within the last 24 hours.
Jay Hughes, 15, died on Thursday night after being stabbed in a south-east London chicken shop.
Meanwhile, two men were stabbed during a fight between kitchen workers at Sony Music's headquarters in central London.
More than 110 murder investigations have been launched across the capital this year.