Windrush celebrated at London Jazz Festival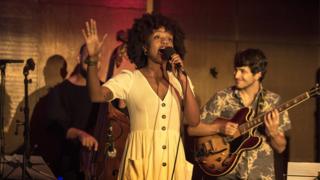 A month-long celebration commemorating the 70th anniversary of the Windrush culminated with a four hour gala at the Barbican as part of the EFG London Jazz Festival. The performers and speakers behind the celebrations share their stories.
The secret poet
Evelyn Burnett was one of many who migrated from the Caribbean to the UK between 1948 and 1971.
Hers was a generation that arrived full of hopes and dreams, but was confronted with racism, prejudice and discrimination.
She juggled working as dinner lady and cleaner while raising four children - roles that relegated her love of writing poetry to a hobby.
Who are the Windrush generation?
Windrush: Who exactly was on board?
Windrush citizenship fees and tests axed
Cherise Adams-Burnett says her grandmother's focus was on "survival... and supporting the dreams of her husband".
The 23-year-old singer has composed a "musical adventure" about Evelyn's migration story, which premiered at the festival.
She describes Evelyn & the Yellow Birds as a "sentimental labour of love" that honours her grandmother, who never had chance to develop her passion.
"She was so encouraging of me being a singer and writing poetry," says 23-year-old Cherise, who has been writing poetry since she was five.
"Then in my 20s she handed me a book of all of these poems that she'd written through the years.
"It was a part of herself that she really suppressed and didn't develop that much. This is my way of doing what she never really got to do creatively.
"It's just a way of paying honours to that and in a way almost mourning that because I wish that she could have done it herself."
The community activist
Karen McCarthy Woolf spoke at the Women of Windrush event about her father, Ricky, who came from Jamaica to the UK in 1957.
He set up an organisation called the Afro-Caribbean radio project in the 1980s which enabled black people to "tell their own stories" and "make their own representation in society".
"He felt that the reporting at the time was too biased and he wanted black people to have access to media training.
"[My dad] inspired me because he was a community activist, he was very committed to keeping those stories and experiences alive."
Ricky went on to co-found and direct Spectrum International Radio, the first multicultural radio station to broadcast nationwide.
It was just the start of a long career in community activism, which saw his project help disadvantaged youths.
Karen, whose mum is white English, said her combined heritage had given her an admiration for multiculturalism.
"I'm mixed heritage and I see myself as a product of another aspect of migration. It's deeply embedded inside of me that I'm a child of that mix.
"In London, we live in this beautifully mixed society and that is one of the results of the Windrush, that I got to be born."
'Identity and strength'
The majority of the events at the London Jazz Festival were curated by Anthony Joseph, a British-Trinidadian poet, novelist, musician and academic.
He said the pinnacle of the project, a gala called Windrush: A Celebration, focused on "the identity and the strength of the Caribbean first".
It featured a mix of music and spoken word, including a pan-Caribbean ensemble and a roster of artists including Calypso Rose and Mighty Sparrow.
Joseph said that while the mood was celebratory, the struggles of the Windrush generation was remembered through "dark" songs and militant quotes by Caribbean writers.
"Rather than a defeatist 'look at the struggles that we're going through', I'm looking at how can we transcend it, how do we move forward into the future, how do we challenge it.
"I'm looking at the whole black power movement of the '70s which led in to the riots of the '80s; I'm looking at the political upheavals of that time and where we are now with the Windrush scandal.
"Sometimes even the dark history are things to learn from and celebrate."