Lib Dems choose London mayoral candidate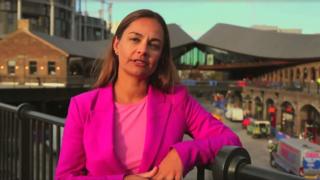 Siobhan Benita will contest the 2020 London mayoral election for the Liberal Democrats, it has been announced.
The former civil servant said community policing, clean air and affordable homes would be some of her priorities if she is elected.
Ms Benita beat former adviser to the Namibian government Rob Blackie, founder of eBookers Dinesh Dhamija and humanitarian aid worker Lucy Salek.
Ms Benita pledged a "fresh alternative to London's tired two party politics".
"Only the Lib Dems have truly stood up for Londoners against Brexit and we will continue to be a strong, liberal voice for our city," she claimed.
Ms Benita ran as an independent mayoral candidate in the 2012 election won by Conservative Boris Johnson.
She said fighting that campaign gave her "valuable experience" and was "just practice for the real race", adding she believes she can do better "as part of a strong Lib Dem team".
Lib Dem leader Vince Cable said: "I look forward to working with Siobhan in standing up for the issues that matter, not least tackling London's knife crime crisis, the soaring cost of living and stopping this Conservative Brexit mess.
"Liberal Democrats have had a string of great electoral successes right across London. Now is the time to get behind Siobhan and demand better."