Met Police launches campaign for workforce to be 50% women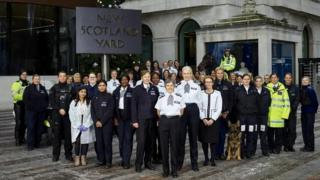 The Met Police has launched a campaign to ensure half of its workforce is made up of women.
Commissioner Cressida Dick made the announcement as Scotland Yard marked 100 years of female officers.
Women currently account for 27% of the Met's officers and the force has launched a push to employ more.
Ms Dick said that since London's population had a ratio of about 50/50 men and women, this should be reflected in the capital's police force.
"We want the best of the best of the talent in London," she said.
On 22 November 1918, then commissioner Sir Cecil Macready officially announced the Met would employ female officers.
Women Patrols took to the streets for the first time in February 1919.
This was despite a Scotland Yard official telling a reporter in 1916 that there was no chance of women being employed as police constables "not even if the war lasts 50 years".
Nearly 8,000 women are currently employed by Scotland Yard but the force hopes its campaign, known as Strong, will lead to a greater number of female officers.
At the launch, the force's deputy assistant commissioner Lucy D'Orsi agreed with Ms Dick that there was "no better time for women to be in policing", as no roles within the force are closed to women.
She said: "Policing, and specifically the Met, have very much led the way in terms of being accessible to women and all roles being accessible to women."
"We have been and will continue to be trailblazers in terms of equality."