Crossrail: National Audit Office to investigate delay and rising costs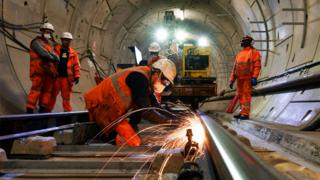 The delay to Crossrail's opening and the project's ballooning costs will be investigated by the spending watchdog.
Transport officials said in August that the new rail line, which is almost £600m over budget, would open nine months after its scheduled launch.
A National Audit Office (NAO) probe is now planned for early 2019.
The project's joint sponsors, Transport for London (TfL) and the Department for Transport (DfT), said they would assist the NAO's investigation.
The NAO will examine the "causes of the cost increases and schedule delays, the terms of the additional funding, and the governance and oversight of the programme", according to a statement on its website.
Europe's biggest infrastructure project aims to help ease London's congestion by connecting sites such as Heathrow Airport and the Canary Wharf business district.
The route, to be known as the Elizabeth Line, was due to open in December, but will now be launched in autumn 2019 to allow more time for testing.
The government announced in July that Crossrail's overall funding had increased to £15.4bn, and the DfT later agreed to make £350m of short-term finance available.
The NAO added: "We will also examine the steps being taken by Crossrail Ltd, TfL, and the department to minimise the impact of the cost increases and delays."
A DfT spokesperson said: "We welcome the NAO investigation and stand ready to assist."
The DfT and TfL have also commissioned independent reviews into Crossrail Ltd's governance and financing. which are being carried out by auditors KPMG.
Transport bosses said in September that TfL would miss out on £20m of new revenue due to the delay, but the total cost of the delay could be far higher.