Ilford Station stabbing: Police officer attacked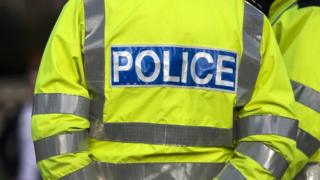 A police officer has been stabbed in an "unprovoked attack" outside a train station in east London.
The male officer was "attacked with a knife" after being approached outside Ilford Station, British Transport Police said.
A man has been arrested in connection with the attack, which happened at around 21:45 GMT on Friday.
The officer was taken to hospital but was discharged on Saturday to continue his recovery at home, police said.
Counter-terrorism police are not involved at this stage, it is understood.
Witnesses described seeing the bloodied officer outside the station which was put on "complete lockdown".
The officer was "fortunate" that colleagues were nearby to restrain his attacker, BTP Federation chairman Nigel Goodband said.
Mr Goodband said the attack "was totally unprovoked".
He said: "It's shocking - knife crime and the wider epidemic of attacking police officers is a real concern to us all.
"We are now seeing senseless acts of violence against those who are there to protect society."
The stabbing comes amid an increase in attacks on police officers and a rise in violent crime in London, particularly knife crime.
Metropolitan Police Federation Ken Marsh recently called for police to be given greater support after an incident where an officer was kicked into a road, close to the path of a bus.
He had previously warned of a "breakdown in society" after two officers were attacked as they tried to apprehend a suspect in Hackney.
Mike Gapes, the Labour MP for Ilford South, tweeted: "Best wishes for full recovery to the brave British Transport police officer stabbed outside Ilford Station."