Cray Wanderers get go-ahead for new London stadium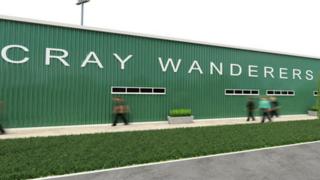 London's "oldest football club" has been given the go-ahead to build a new stadium after 45 years without a home.
London Mayor Sadiq Khan has backed Cray Wanderers' scheme to build a ground at Flamingo Park, near the Sidcup Bypass.
Bromley councillors voted 11-3 in favour of the project earlier this year, which includes demolishing a nightclub and building new 3G football pitches and homes.
The new stadium will have a capacity of 1,300, and feature additional pitches.
The mayor blocked plans for a new ground in 2016 to protect greenbelt land, but finally gave the new stadium the green light on Monday.
Writing on Twitter, the Wands' chairman Gary Hillman said: "Just had the best phone call ever. Football's coming home. GLA have approved Flamingo Park planning.
"Cray Wanderers homeless since 1973 and now it's coming home!"
The new stadium will have three additional 11 a-side pitches, a seven-a-side pitch and two five a-side pitches, which will be used by the club's junior sides.
Bromley and Chislehurst MP Bob Neill said: "Fantastic news for Cray Wanderers and the wider community.
"The scheme gives a disused site new lease of life, secures permanent a home for a historic club, and provides much-needed opportunities for outdoor recreation where none currently exist.
"I'm pleased Sadiq Khan has finally got behind it."
Almost 600 people wrote to Bromley Council in favour of the project and more than 1,000 letters were delivered to City Hall, the Local Democracy Reporting Service said.
A spokesman for the Mayor of London, said Mr Khan is pleased that concerns he raised two years ago regarding the layout of the stadium and proposed development on the Green Belt have been addressed.
Cray Wanderers formed when workers building the Cray Valley railway viaduct had a "lunchtime kickabout", according to the club, and has been going for over 150 years.
It is said to be the second oldest football club in the world, behind Sheffield FC.