Allotment murder: Grandmother killer jailed for 19 years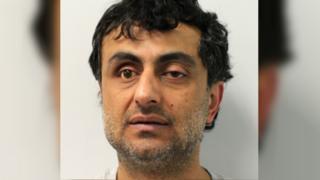 A man who murdered an elderly widow with a lawnmower flex on an allotment has been jailed for at least 19 years.
Rahim Mohammadi, 42, was convicted of killing 80-year-old Lea Adri-Soejoko following a trial at the Old Bailey.
He throttled Mrs Adri-Soejoko with the mower cable and left her body inside a locked shed at the site in Colindale, north London in February last year.
Judge Richard Marks QC said opium user Mohammadi killed Mrs Adri-Soejoko in a "violent loss of temper".
During sentencing, the judge said: "How bitterly ironic that the place she loved so much - the allotment - was the place she met her death.
"It goes without saying that although Lea was fit for her age she was an elderly lady and as such, confronted and attacked by you as she was, was vulnerable in the extreme."
Mrs Adri-Soejoko was the secretary of the Colindale Allotment Garden Association, and Mohammadi had feared he was going to be thrown off his plot.
Mohammadi, a Kurdish Iranian, claimed to be a victim of torture, and was given an allotment through the charity Freedom from Torture.
Mrs Adri-Soejoko's son, Mark, said Mohammidi's background was irrelevant to his mother's death.
"Where they come from has nothing to do with it. We are the children of immigrants. This is about the actions of one wicked individual," he said.
Her daughter, Tess Adri-Soejoko, added: "Hatred is something you kind of rise to in a situation like this. I'm just glad that the truth has been revealed about him and who he truly is."
Det Ch Insp Noel McHugh of the Met Police said Mrs Adri-Soejoko was a "sprightly" person who was loved by all.
By contrast, he described Mohammadi as a "manipulative, evil, controlling individual".
The court had heard how Mohammadi had been involved with the allotment since 2008.
In September 2016, he clashed with Mrs Adri-Soejoko at an allotment association meeting and he called her a "bloody old witch".
Five months later Mohammadi attacked her at the allotments, causing bruises and fractures to her ribs, before throttling her with the cable.