Kelva Smith: Man sentenced to 'life in jail' over Croydon stab murder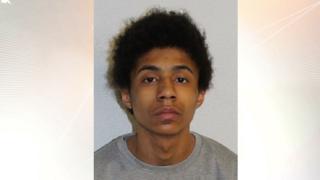 A man has been sentenced to life in prison for stabbing his former friend to death with a "Rambo knife" in a row over a motorbike in south London.
Kelva Smith, 20, was killed on 8 March on Archer Road, South Norwood.
Tyrone Farquharson, 20, of Archer Road, was found guilty of the murder of Mr Smith at the Old Bailey. He was sentenced on Friday and must serve a minimum of 21 years for the killing.
Two boys, aged 14 and 16, were both acquitted of murder and manslaughter.
The 16-year-old was previously convicted of possessing an axe and conspiracy to rob and will be sentenced on 19 December.
Fraquharson was also sentenced to 18 months, to run concurrently, for possession of a knife.
The court previously heard how a disagreement over a motorbike led to the three defendants attacking Mr Smith.
On the day of the murder, Mr Smith had arranged to meet Farquharson, who he believed had stolen a bike from him, police said.
Mr Smith had stolen the bike with the intention of selling it on.
In Archer Road, Mr Smith was approached by the defendants, the court heard.
Angry words were exchanged and almost immediately Farquharson produced a large "Rambo" style knife, police said. The 16-year-old, aged 15 at the time, was brandishing an axe.
London's Air Ambulance attended the scene however none of the medical experts were able to stop the internal bleeding from a stab wound to Mr Smiths abdomen.
Det Insp Rob Tickle said: "Today a young man was sentenced to life imprisonment for stabbing his former friend to death.
"Knife crime is the scourge of towns and cities and a blight on the futures of our young people, whether it be those who carry and use them or worse, those who suffer appalling and life changing injuries as a result of being attacked."