Newham attack: Man dies in gun and knife attack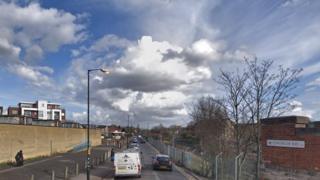 A 22-year-old man has died after suffering knife and gunshot wounds in east London.
He was attacked in Church Road in Manor Park, Newham, shortly before 21:30 BST on Monday.
The Metropolitan Police said officers found the victim suffering from his injuries and was pronounced dead at the scene.
No arrests have been made, but police believe the man was attacked by three males.
Det Insp Alison Cole said: "At this early stage we believe that the victim was approached by three males who inflicted the injuries and fled in the direction of Browning Road."
An eyewitness said the victim's mother visited the scene just after the attack.
Uddin Gias, 49, said: "Two Somalian boys were standing by the police tape - they told me his mother was in a parked car just there".
CCTV footage from a local convenience store showed four people running from the scene at 21:25.
One person in tan trousers ran ahead, followed by three others in dark clothing but their faces were obscured by the store's awning.
A passer by, who did not give his name, said there had been "issues going on for a couple of days" in the area.
Police have been granted a Section 60 order, giving them increased stop and search powers in Newham until 13:30 on Tuesday.
Mayor of Newham Rokhsana Fiaz tweeted: "My deepest condolences to his family today following a devastating incident last night."