Extinction Rebellion: Police move in on London protesters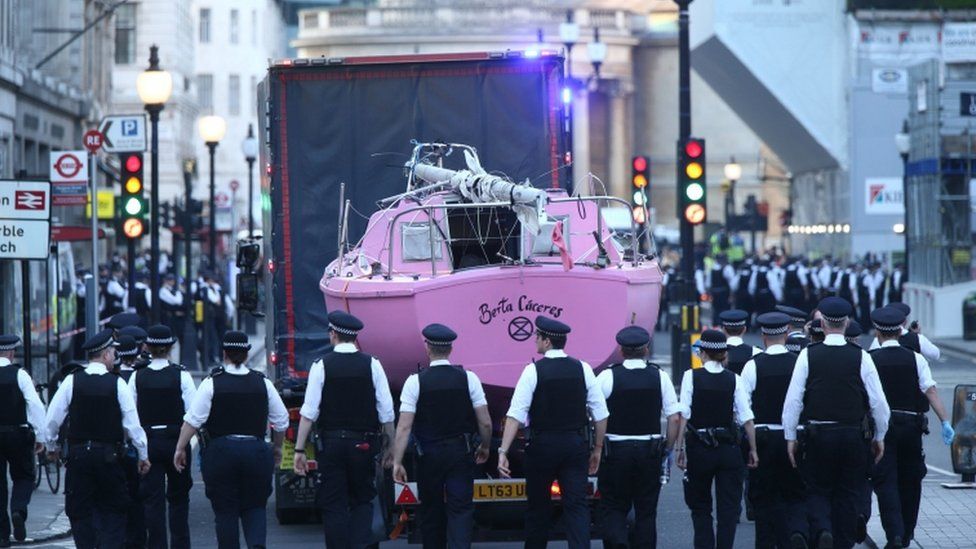 Police have dismantled a pink boat in central London that had formed the centrepiece of demonstrations by Extinction Rebellion protesters.
However, hundreds of demonstrators later moved back into Oxford Circus, blocking traffic.
The Met said 106 people had been arrested on Friday bringing the total number of arrests to 682 since the action started on Monday.
Earlier, Dame Emma Thompson also joined the climate action protest.
The actress stood on the pink boat and told activists her generation had "failed young people".
The 60-year-old, who joined the protesters after flying from Los Angeles on Thursday, said: "We are here in this little island of sanity and it makes me so happy to be able to join you all and to add my voice to the young people here who have inspired a whole new movement."
Under the blazing sun, people were handing out water and asking if anyone wanted sun cream, some shielding themselves from the heat with rainbow-striped umbrellas.
But this was a bank holiday gathering with a difference, between police and activists converged at the centre of Oxford Circus.
Officer numbers increased in the afternoon, with teams armed with tools removing those who had attached themselves to the boat.
The atmosphere has been good natured, with protesters chatting to officers, a drum beating, and colourful flags fluttering in the slight breeze.
But every now and then, whistles and cheers went up as protesters were carried away to waiting police vans, with shouts of "climate justice now".
Protests are also being held at Waterloo Bridge and Parliament Square.
The Met Police said officers had been working 12-hour shifts and have had leave cancelled.
Skip twitter post by MPS Events
*Arrest update*

So far today we have made 106 arrests. This brings the total to 682.

The serious disruption the demonstrations are causing to people in London and beyond is unacceptable and we completely understand the concern it is causing to those who are disrupted by it

— MPS Events (@MetPoliceEvents) April 19, 2019
The BBC is not responsible for the content of external sites.
End of twitter post by MPS Events
It comes as a group of demonstrators staged a protest at Heathrow Airport amid threats to disrupt flights over Easter.
Protesters stood by the tunnel leading to Heathrow Terminals 2 and 3, but all roads remain open.
However, Robin Ellis-Cockcroft, 24, said the group had succeeded in creating an "emotional disruption" at Heathrow.
Ken Marsh, chairman of the Metropolitan Police Federation, said: "This is very, very difficult for us because my colleagues have never come across the situation that they are faced with at the moment.
"They are dealing with very, very passive people, probably quite nice people, who don't want confrontation whatsoever with the police or anyone else but are breaking the law."
Environmental activists have also been in action in other parts of the world.
In Paris, they blocked the entrance of the Societe Generale bank headquarters, as part of a protest urging world leaders to act on climate change.
Pepper spray was used by anti-riot police in an attempt to disperse the demonstrators.
Activists also gathered outside the Ministry of the Ecological and Inclusive Transition in La Defense, near Paris, and blocked the entrance of the headquarters of French oil giant Total there.
Meanwhile, two of the UK's leading thinkers on climate change dismissed the demand of Extinction Rebellion for virtually zero carbon emissions by 2025, arguing the 2050 date was more realistic.
Corinne Le Quere, professor of climate change and science and policy at the University of East Anglia, told BBC Radio 4's Today programme that 2025 was "probably quite unrealistic" as a target to "move completely away from fossil fuels".
The economist Lord Stern agreed, saying: "The target of zero net emissions by 2050 makes sense and that looks like the right one."