Extinction Rebellion plans Heathrow drone protest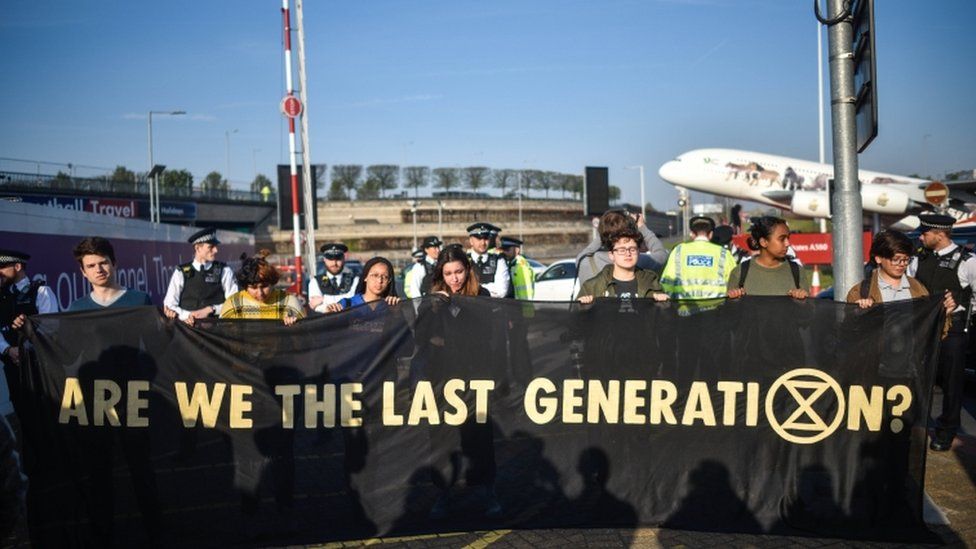 Extinction Rebellion activists are threatening to shut down Heathrow Airport with drones.
The climate change protest group vowed to stage a one-day demonstration in June and then 10 further days in July - unless the government cancels plans for expanding the airport.
Ten days of protests across central London in April saw 1,130 people arrested for various offences.
Heathrow Airport said the plan was "reckless" and could "endanger lives".
Extinction Rebellion said it was in talks with members about carrying out action to close the airport on 18 June and again from 1 July for up to 10 days if the government did not cancel plans to expand the airport.
A spokesman for the group said it was "fully committed to non-violence" and it would "not take action that would put airline passengers at risk" but "in the face of climate and ecological collapse [would] continue to build a peaceful movement".
The plan to use drones was discussed in a consultation document shared between group members.
A Heathrow spokesman said: "This is reckless action that if carried out could endanger the lives of the travelling public and our colleagues.
"We agree with the need to act on climate change, but that requires us to work together constructively - not commit serious criminal offences just as hard-working people prepare to spend a well-earned holiday with their family and friends."
Aviation Minister Baroness Vere warned that any illegal activity "must be met with the full force of the law".
She added: "Flying drones near an airport is a serious criminal offence and using drones to deliberately put people's safety at risk carries a maximum life sentence.
"No government has done more to reduce carbon emissions and Britain is at the forefront of global efforts to tackle climate change."
Last month the group's tactics in central London included asking volunteers to deliberately get arrested to cause maximum disruption at roadblocks on Waterloo Bridge, Oxford Circus and Marble Arch.
Demonstrators also protested at Heathrow but did not cause disruption to flights.
A small group of mostly teenage activists briefly unfurled a banner near a tunnel which leads to Terminals 2 and 3 as several police officers watched on.
The exclusion zone will now be extended to the current Air Traffic Zone around airports, which is approximately a 5km (3.1 miles) radius, with additional extensions from runway ends.
Endangering the safety of an aircraft is a criminal offence which can carry a prison sentence of up to five years.
Related Internet Links
The BBC is not responsible for the content of external sites.