The Shard: Free-climber spotted scaling London landmark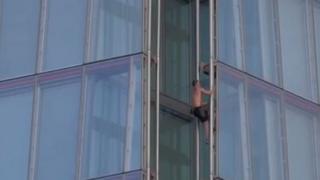 A free-climber has scaled The Shard, one of the tallest buildings in Europe.
Urban climber George King, 19, was spoken to by police after the stunt - at about 05:15 BST - but not arrested.
Onlookers posted footage of Mr King, who made the ascent without ropes or suction cups in 45 minutes.
Previous climbers of the 310-metre (1,017ft) London skyscraper include YouTuber CassOnline, who climbed from the public viewing platform to the apex in 2017.
In an Instagram post Mr King said he spent months planning and training for the climb.
In 2013, a group of Greenpeace activists also scaled the Southwark building to protest against oil drilling in the Arctic.
The previous year, The Shard secured a High Court injunction against Alain Robert, the climber nicknamed the French Spiderman, to stop him attempting to scale it.
You may also be interested in:
A spokesman for Real Estate Management, the asset management company that operates The Shard, said: "We dealt with an incident at The Shard earlier this morning involving a member of the public who climbed the building.
"The person was safely apprehended and detained by police. Some areas around the base of The Shard that were closed to the public as a safety precaution have now been partially re-opened.
"Public safety and the security of the people who live, work and visit The Shard and the surrounding area is of paramount importance to us.
"Fortunately no-one was hurt by this dangerous activity and we will be assisting the police with their investigation."
People have taken to social media to voice their amusement and concerns over the climb.