Met Police hacked with bizarre tweets and emails posted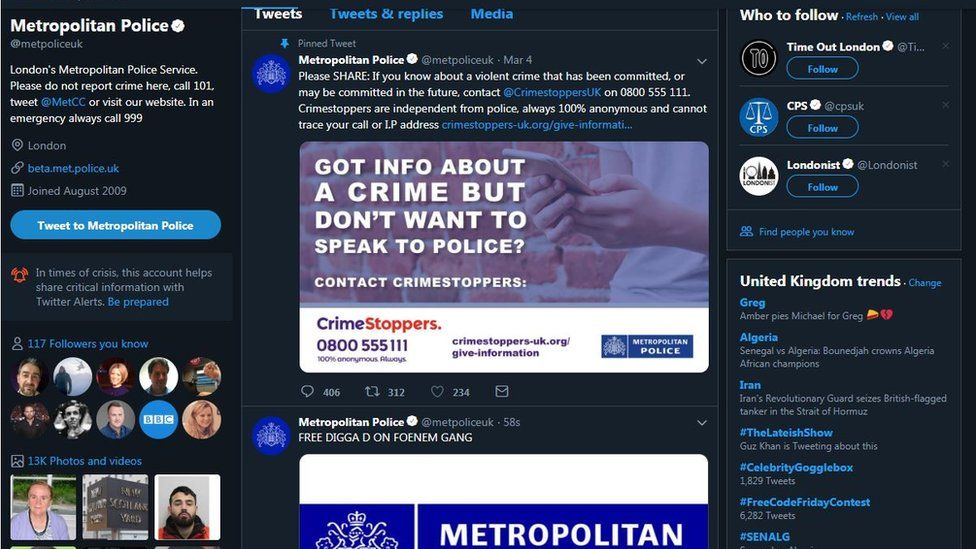 The Metropolitan Police's website has been hit by hackers who posted a series of bizarre messages.
A series of tweets were sent from the force's verified account, which has more than a million followers, including one about rapper Digga D.
A stream of unusual emails were also sent from the force's press bureau at about 23:30 BST on Friday.
Scotland Yard confirmed its website had "been subject to unauthorised access".
Following the incident, US President Donald Trump renewed his attack on Mayor of London Sadiq Khan, in a tweet quoting right-wing commentator Katie Hopkins.
Ms Hopkins said "they have lost control of London streets" and "apparently they lost control of their twitter account too", while Mr Trump added: "With the incompetent Mayor of London, you will never have safe streets!".
The Mayor's office has declined to comment on Mr Trump's tweet.
The force said it used an online provider called MyNewsDesk to issue news releases and said "unauthorised messages" appeared on its website, Twitter account and in emails sent to subscribers.
The tweets, which have been deleted, contained offensive language and mentioned the names of several people.
The posts also linked to press releases about the rapper and an apparent missing child.
BBC home affairs producer Daniel De Simone tweeted that the hack was a "serious issue" and added: "The press and public relies on comms from the Met during emergencies such as terror attacks."
A Met spokesman said the force was working to establish exactly what happened.
"We have begun making changes to our access arrangements to MyNewsDesk," he added.
"At this stage, we are confident the only security issue relates to access to our MyNewsDesk account."
Related Internet Links
The BBC is not responsible for the content of external sites.