Waltham Forest Pride: Police probe 'homophobic abuse' video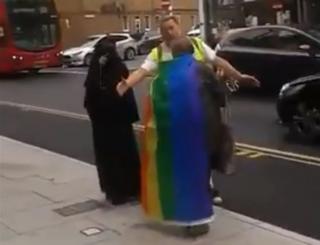 Police are investigating suspected homophobic abuse after footage of a woman shouting "shame on you" at people on a Pride march was shared online.
A video posted on Twitter shows a woman wearing a niqab yelling at people, including one person in a rainbow flag.
The Met Police said it was aware of the footage, which was reportedly taken at the Waltham Forest Pride event.
The force said a 38-year-old woman has been arrested under section 4a of the Public Order Act.
The Met tweeted: "Abusing someone because of their sexual orientation or gender identity is a hate crime.
"If you have been verbally or physically abused, harassed or attacked in any way by someone because you are or they think you are LGBT+ please report these crimes to police or through a third party agency."
In the video of the event in Walthamstow on Saturday, a woman can be heard shouting: "God created Adam and Eve, not Adam and Steve. Shame on you, shame on all of you.
"Shame on you, you despicable people. Shame on you, you shameless people."