Chinatown fire: Two rescued from London restaurant blaze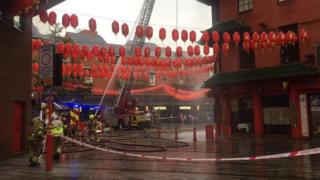 Two people were rescued from a large blaze at a restaurant in London's Chinatown, which left smoke visible over large parts of central London.
Fire crews were sent to Gerrard Place at 08:40 BST where parts of the first and second floors and a section of the roof were alight.
Some 80 firefighters took three hours to get the flames under control.
Nobody was injured but owner Peter Ren said he expected his restaurant would be closed "for months".
Smoke from the blaze covered much of Soho after the fire broke out.
The two rescued people had to be led down an internal staircase by fire crews.
Four others had already left the building before London Fire Brigade (LFB) arrived.
The cause of the fire is not known at this stage, LFB said.