Joseph McCann report: 'Repeated failures' to recall serial rapist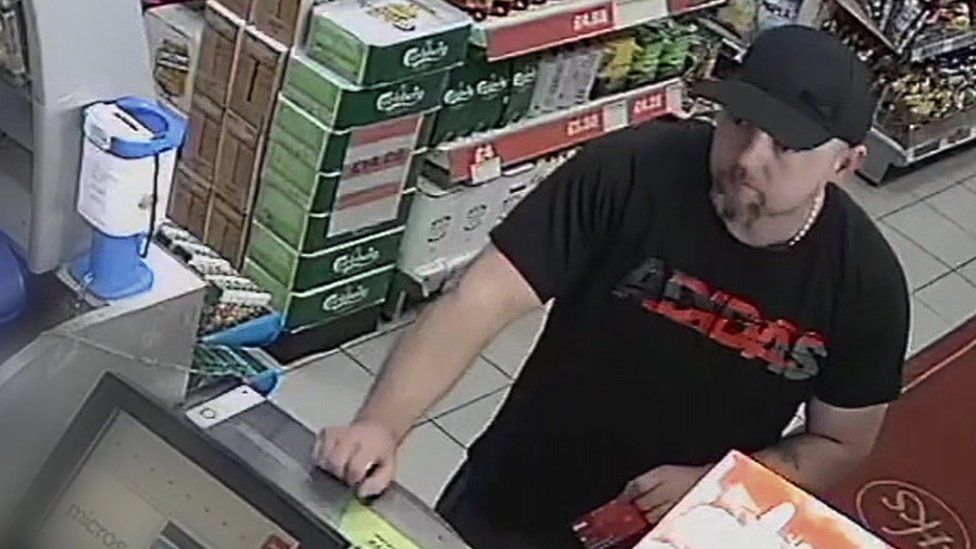 Probation staff were warned serial rapist Joseph McCann posed a risk of sexual offending and could have recalled him to jail, a report says.
There were eight opportunities to recall McCann to jail before he went on a spree of sex offences last year, the Serious Further Offences report found.
Justice Secretary Robert Buckland promised an independent review.
A summary of the report said McCann should have been kept in jail at least until the Parole Board was satisfied it was safe to let him out.
It says there were eight occasions when this process - called "recall" - was considered.
"The most significant practice failure was the repeated failure to recall Joseph McCann or to reflect critically on earlier decisions not to recall him, in the face of both court and prison staff communicating their concerns," the report said.
One of McCann's victims, a 39-year-old mum, said her family "has been torn apart".
"If he had been in prison none of this would have happened," she said.
"I lost my family home. I could not go back to the house. It was awful it has just been really bad emotionally."
Her 17-year-old daughter, who was also one of McCann's victims, said she "thought the law was meant to protect the public".
"I used to be an independent person but now I can't do anything on my own.
"I can't even sleep in my own bed . It's absolutely awful."
The report disclosed that in 2011, when McCann was in prison for burglary, police shared information dating back to 2003 and suggesting McCann "might pose a risk of sexual harm and exploitation to teenage girls".
The report added: "It appears that the pressure on the staff throughout 2018 and the chaotic transfer of the case between numerous offender managers also significantly impacted their ability to comprehensively review McCann's historical record, and therefore to identify the previous references to sexual violence.
"Had offender managers reviewed the historical records, including the police intelligence, they might have instigated one to one work with McCann to address sexual violence.
"However, aside from this historical intelligence from 2003 and the letters intercepted by the prison in 2009, there were no more recent indicators of concerning sexual behaviour, and this failure should be viewed in this context."
When an offender under probation supervision is charged with a serious crime an internal inquiry is conducted, known as a Serious Further Offence review.
These reports are usually kept under wraps, but the repercussions of the probation failings in this case were so appalling the Justice Secretary Robert Buckland recognised the clear public interest in making the document available for all to see.
What is shocking, from reading the report, is that the same mistake was repeated over and over and over again.
That mistake was not to activate the "recall" process so that Joseph McCann would have stayed in prison after being sentenced in January 2018 until the Parole Board decided he could safely be let out.
Various reasons are cited for this persistent error - the threat of a legal challenge, concern about the impact of recall, communication problems - but I wonder whether fear of McCann, his bullying nature and violent temper, drove some staff to make the wrong decision.
The prison holding McCann had also intercepted two sets of letters from McCann with "disturbing contents" which "indicated he posed a risk of sexual harm".
McCann was released in March 2017 under strict bail conditions, but jailed again later that year.
He was released at the halfway point of his sentence in February 2019, two months before he went on a sex offending spree in Watford, London, Greater Manchester and Cheshire.
His victims were aged between 11 and 71 and included three women who were abducted off the street at knifepoint and repeatedly raped.
Alan Collins, a lawyer for some of McCann's victims, said the report made for "hard and distressing reading".
"It is unforgivable that the probation service, for unfathomable reasons, put McCann's perceived interests before the safety of the general public," he said.
"McCann posed a real risk to the public and the systems in place to manage the risk he posed were corrupted through ineffectual management and poor judgment.
"As a direct consequence, he was let loose on an unsuspecting public with terrible consequences.
"Lives have been damaged, if not ruined, as a result of what happened and the Ministry of Justice must accept full responsibility and... accept that it has to be accountable for McCann and the crimes that he committed when he should have been in prison."
Another legal representative of some victims, Jonathan Bridge of Farleys Solicitors, said: "The report highlights poor staff behaviour, limited productivity, poor quality of work, a high staff turnover and officers having to work with double the capacity they should have had.
"This report makes it clear that this was not a one-off mistake by the Probation Service, but a catalogue of errors spanning a number of years.
"It is absolutely clear that had the Probation Service done their job properly McCann would have been in prison and his victims would not have suffered horrific abuse and life changing psychiatric injury."
The Ministry of Justice, which carried out the review, said the chief inspector of probation Justin Russell will be asked to carry out an independent review of the National Probation Service's management of McCann and how the process of recalling offenders to prison is working.
The Attorney General also said he has referred McCann's sentence to the Court of Appeal under the Unduly Lenient Sentence scheme. A hearing will take place on 25 March.
The judge called for an investigation into failings in the probation system which had left McCann on the streets.
McCann was sentenced to a minimum of 30 years in jail having been convicted of:
Ten counts of false imprisonment
Seven counts of rape
One count of rape of a child
Two counts of causing or inciting a person to engage in sexual activity without consent
Seven counts of kidnap
One count of attempted kidnap
Three counts of causing or inciting a child under 13 to engage in sexual activity
Three counts of assault by penetration
One count of sexual assault
Two counts of committing a sexual offence with intent
Related Internet Links
The BBC is not responsible for the content of external sites.