Coronavirus: Food bank shortage blamed on panic buying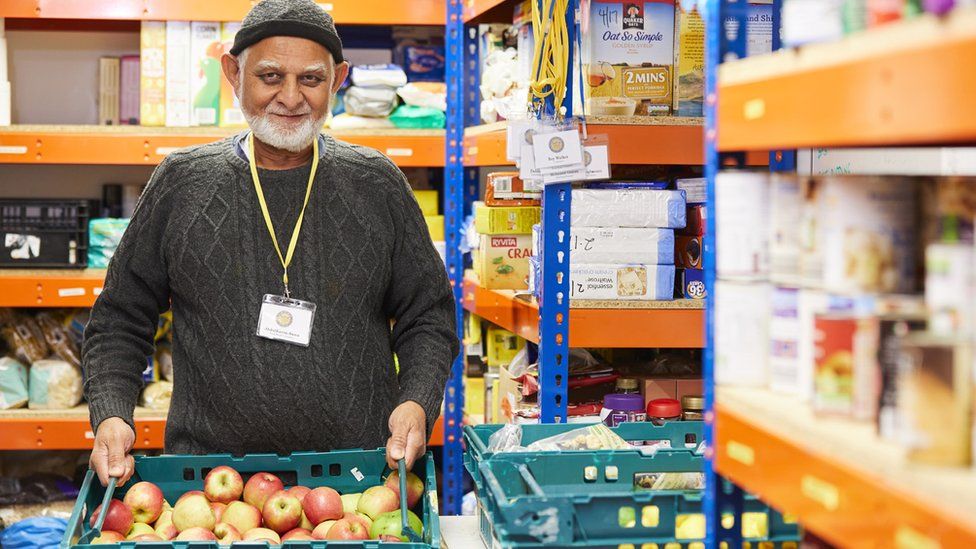 Food banks say they have a shortage of basic items because shoppers are stockpiling as fears grow over the spread of coronavirus.
London food bank Sufra, which donates 9,540 parcels annually, says the likes of pasta and rice are hard to get.
In Coventry, one food bank said supplies have "never been so low" and in Billingham donations have dropped considerably in recent days.
Food bank charity The Trussell Trust said it hoped the "generous public" would continue donating.
"We're working with our network on how best to support people as the situation unfolds," it said.
The North Paddington Foodbank (NPF) in London said its donations were down by 25% meaning it had to spend an additional £200 per week to top up supplies.
But manager James Quayle said finding supplies has been difficult.
"The items we are trying to purchase may not be available [from supermarkets]," he said.
"We've been hit quite hard by it to be honest."
In Coventry, the Queen's Road Baptist Church Food Bank, which has been operating for a decade, usually helps up to 4,000 people each year.
Although now is traditionally a quieter time for donations, contingency plans are in place, in the event the virus takes hold.
But Graham Carpmail, from the bank, said his fridge is all but empty and supplies have diminished.
"I've never been so low with what we've got to give people," he added.
On Teesside, the Billingham and Stockton Borough Food Bank said donations had dropped.
"I think we're lower on stock because people have started to stockpile and so don't give as much," Jill Coyle, from the bank, said.
"We put [long-life] milk in every bag and we are low. Likewise with juice and squash.
"Sugar and coffee are the other things everybody wants. Coffee is a bit more expensive so we get less of it donated.
"Shops don't donate food as such, but have a basket at the end of the tills so people can shop and donate an item. It's that collection that's been lower."
Back in Paddington, King Anthony Sarkar, a regular food bank user, said he could not manage without it.
"Tinned foods, rice and pasta, everything here makes a meal," he said. "You get a meal all the time."
Mr Quayle said he was concerned they could have to close their doors and run a delivery service only to those in greatest need.
His experience was echoed by Rajesh Makwana, from the Sufra food bank in north-west London, who said 40% of its users are refugees or asylum seekers who rely on the food banks as they are not allowed to work.
It has put out an emergency appeal for donations after receiving fewer items from its collection points at schools, churches and local small businesses.
Mr Makwana said they have struggled to buy staple items from their normal outlets as supermarkets ran out of these cheaper items.
"The families we support simply can't afford to panic buy and hoard food, they're already knocking on our door in search of basic supplies," he said.
Mr Makwana said the charity had now started rationing things like pasta and toiletries.
Like NPF, Sufra is also looking at running a delivery-only service in order to protect volunteers from cross-contamination.
"We want to provide a service but we're struggling on so many fronts," he added.
The Parson Cross Initiative in Sheffield is planning for a fall off in donations in the coming weeks.
The food bank said it was also taking precautions by issuing "grab bags" from next week in a bid to cut down on person-to-person contact.
Normally, people can have a snack and a drink while they wait.
The Felix Project in Enfield, London, which collects just-in-date and surplus food from supermarkets and restaurants to distribute to 330 charities and schools, said its warehouses were now short.
"Everyone is scaling back and we've seen a significant drop. It is worrying," Damian Conrad said.
He was especially concerned for his schools which have a high percentage of pupils relying on a school dinner as their main meal.
The Oasis Project in Plymouth is almost empty and has seen a run on its meat, fruit juices and tinned tomatoes.
Eunice Halliday said: "If more people self-isolate and only get statutory sick pay, that's likely to lead to an increase in people needing the food bank."
Related Internet Links
The BBC is not responsible for the content of external sites.