Coronavirus: Pictures show London's empty streets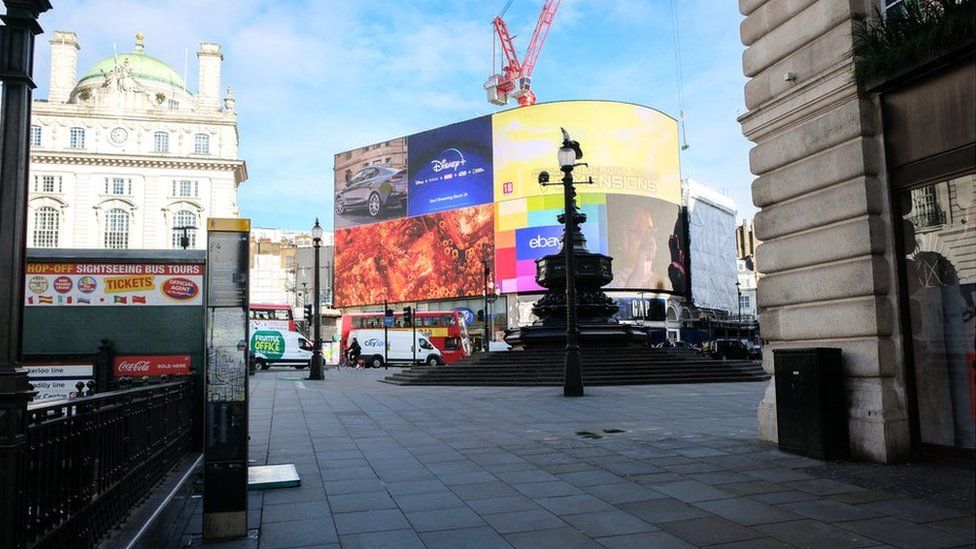 Streets around some of London's most popular landmarks are much quieter than normal after the government announced new measures to protect people from the coronavirus outbreak.
Prime Minister Boris Johnson warned people to avoid social contact, to work from home where possible and advised people to stay away from pubs, bars and restaurants.
Mayor of London Sadiq Khan said the London Underground would be running a reduced service after passenger numbers dropped in recent days.
BBC reporter Rebecca Cafe
Oxford Street, long considered Europe's busiest shopping street, was far from busy this afternoon but it was not empty.
The people milling around weren't weighed down with shopping bags. Instead most were walking with a purpose, perhaps to go to work or to pick up lunch.
The bigger shops had several people inside but if you looked through the windows of the more specialists shops, the sales assistants were standing alone, with no-one to serve.
People eating in a sit-down restaurant were pretty much eating alone, however places where food could be taken away had a steady trade.
There were still a few tourists, strolling down either looking for their hotel or pointing out the sights, but how long they will stay here remains to be seen.
London is not on lockdown - but people are definitely attempting to keep a social distance.
All pictures subject to copyright
Related Internet Links
The BBC is not responsible for the content of external sites.