Hornsey flats stab death: Man 'stumbled' into blade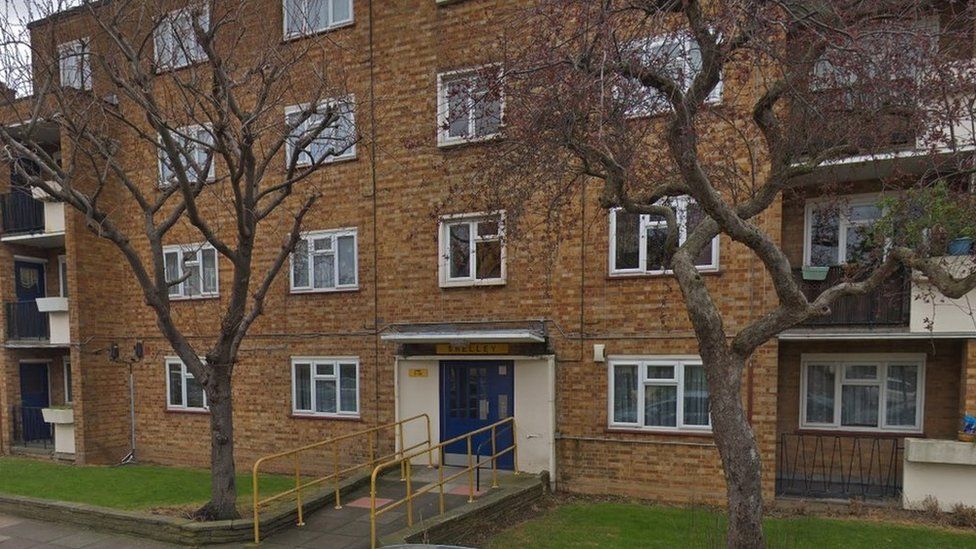 A man has been cleared of killing his friend after claiming he stumbled towards his knife during an argument.
James O'Keefe died in Shelley House, Hornsey, on 9 December last year after a varicose vein in his thigh was nicked with a kitchen knife.
The Old Bailey heard the 47-year-old did not seek help over the 1.5cm deep wound and then collapsed in a bath.
George Nolan, 54, of Mount Pleasant Road, Tottenham, was found not guilty of his manslaughter.
Prosecutor Julian Evans told the court the pair got into an argument while drinking at the flat of another friend, Jan Farnham.
Mr Farnham then found Mr O'Keefe with his trouser leg soaked in blood and rushed to get help after the 47-year-old collapsed in a bath.
Mr Nolan was arrested the following day after a knife with the victim's blood on it was found in a communal bin.
Mr Evans said the 47-year-old had "suffered a single stab wound that bled profusely, unchecked and untreated for a lengthy period of time".
"In all likelihood, James O'Keefe did not appreciate the potential seriousness of the injury he had suffered. Whether this was because he was intoxicated or whether he lost consciousness is not known."
He told the jury the prosecution believed Mr Nolan had intended to cause him some but not really serious harm.
Mr Nolan had denied manslaughter telling the court he had tried to reason with his friend after an argument had blown up between Mr O'Keefe and Mr Farnham over a coat.
He said he picked up a knife to try to deter the victim who was advancing towards him armed with a wooden rounders bat, but Mr O'Keefe had stumbled towards the blade.
The jury took just over an hour to find him not guilty.
Related Internet Links
The BBC is not responsible for the content of external sites.