Caroline Flack inquest: 'No doubt' presenter intended to take own life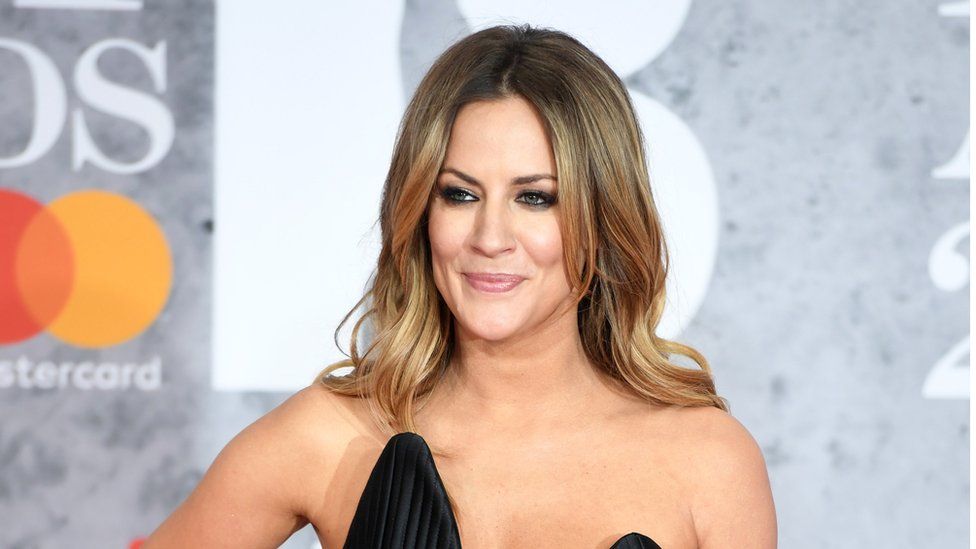 TV star Caroline Flack took her own life while she was facing trial accused of assaulting her boyfriend, a coroner has ruled.
The ex-Love Island and X Factor host was found dead at her home in Stoke Newington, London, on 15 February.
The day before her death Ms Flack had found out she would be prosecuted and feared press intrusion, the inquest at Poplar Coroner's Court heard.
Coroner Mary Hassell ruled her death was suicide.
Ms Hassell said Ms Flack, 40, had killed herself after an "exacerbation and fluctuation" of ill health and distress.
The inquest heard sections of the media had been "hounding" the presenter over the alleged assault of Lewis Burton, which she denied.
Ms Flack's mental health had deteriorated following her arrest, according to the coroner.
The inquest heard the Crown Prosecution Service (CPS) initially pursued a caution against Ms Flack, but withdrew it after the Metropolitan Police said it believed it was in the public interest to bring an assault charge.
The presenter's mother Chris told the court she thought her daughter had been "seriously let down by the authorities and in particular the CPS for pursuing the case".
Ms Hassell said she was "satisfied [Ms Flack] wanted to cause her own death" and "there's no doubt in my mind at all".
"For some, it seems she had a charmed life - but the more famous she got the more mentally distressed she became," she said.
"Her trauma was played out in the national press and that was incredibly distressing for her."
A pathologist ruled Ms Flack died from hanging.
Ms Flack had left her role presenting Love Island, the ITV2 dating show, in the wake of her arrest last December.
Mr Burton did not support the assault charge, and in a statement he said the last time he had seen Ms Flack "she was not in a good place".
He said "the media were constantly bashing her character" and "writing hurtful stories".
Ms Hassell said: "I find the reason for her taking her life was she now knew she was being prosecuted for certainty, and she knew she would face the media, press, publicity - it would all come down upon her. To me, that's it in essence."
Mrs Flack wept as she told the coroner over video-link: "I think you got it spot on.
"We know you are not allowed to say certain things and it's up to us if we want to take it any further, and we don't."
She previously told the inquest that if Ms Flack had been a "normal person", the police and CPS wouldn't have "been bothered" to charge her.
"You should be disgusted with yourself. That girl killed herself because you put an appeal through."
Det Insp Bateman said: "I was not biased and I treat everyone the same."
Deputy chief crown prosecutor Lisa Ramsarran said Ms Flack accepted she had caused Mr Burton's injury, but "the explanation essentially amounted to it being an accident, which is a defence and was the disputed issue which was going to be the issue at trial".
After the hearing, the Met Police said it "takes allegations of domestic abuse, by men or women, very seriously and investigates those allegations in accordance with national and Met Police policies".
A spokesperson said: "Officers are encouraged to consider 'evidence-led' prosecutions where appropriate, and actively investigate cases even if the victim does not wish to support a prosecution.
"This is to enable victims to be safeguarded and to bring offenders to justice, as well as due to the risk of repeat victimisation."
In a statement after the ruling, Ms Flack's mother said: "Caroline you were loved. I love you.
"Many people loved and supported Caroline, they know who they are and I thank them all.
"Many people pretended to love Caroline and took advantage of her kindness and they know who they are."
You can find information and support for issues raised in this article on the BBC Action Line website.
Related Internet Links
The BBC is not responsible for the content of external sites.