Stephen Lawrence racist murder: 'The Met might give up, I never will'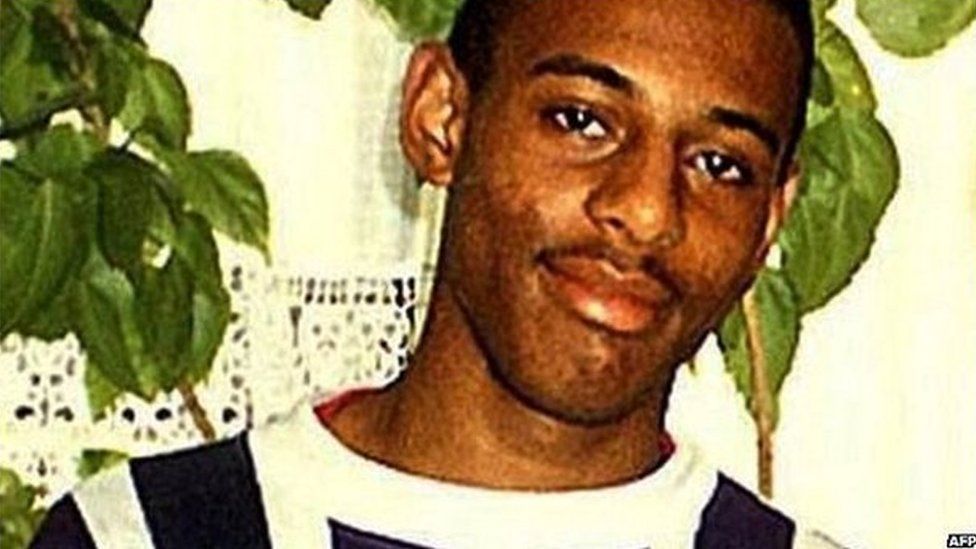 Racist murder victim Stephen Lawrence's mother has vowed she will never give up on her son despite the Met Police declaring investigations "inactive".
Detectives have said all "identified lines of inquiry have been completed" into the 1993 killing.
But Baroness Doreen Lawrence said: "Whilst the Metropolitan Police have given up, I never will.
"I am truly disappointed that those others who were equally responsible... may not be brought to justice."
Stephen, 18, was killed in Eltham, south-east London, in April 1993.
Gary Dobson and David Norris were convicted of his murder in 2012.
Met Commissioner Cressida Dick said Mr Lawrence's family had been told about the latest operational developments.
Duwayne Brooks, who was with Mr Lawrence on the night he was murdered, has also been told about the Met's decision, the force said.
'We will achieve justice'
Ms Dick said she was sad that the Met had been "unable to secure any further convictions for Stephen, his family and friends".
She added: "The investigation has now moved to an 'inactive' phase, but I have given Stephen's family the assurance that we will continue to deal with any new information that comes to light."
Reacting to the announcement, Stephen's father, Neville, said he was disappointed but not surprised that it had been shelved by police.
He said that he "will always live with the hope that someone might come forward with evidence which will allow us to achieve full justice for Stephen".
Baroness Lawrence said: "I am truly disappointed that those others who were equally responsible for my son's racist killing may not be brought to justice.
"It is never too late to give a mother justice for the murder of her son. Whilst the Metropolitan Police have given up, I never will."
She thanked senior investigating officer Clive Driscoll, who secured the convictions of Dobson and Norris after she had campaigned for nearly 20 years.
"Having Clive Driscoll on Stephen's case made all the difference to me and had he had the opportunity of continuing to investigate the murder there may have been more convictions," she said.
The latest phase of the investigation into Stephen's murder began in January 2014, with Det Ch Insp Chris Le Pere taking over as the lead officer.
Since then more than 240 new witness statements have been taken.
Another development in the case came from a woman's DNA profile obtained from a bag strap discarded at the scene of the murder.
Despite a significant appeal for information and other investigations, that woman has not been identified.
Officers also sought to identify a man who had been near the murder scene wearing a jacket with a distinctive V-shaped emblem.
A third line of inquiry had been to track down a man who had called the BBC's Crimewatch in 2013 to say he had information about the attack.
"The appeal generated more than 40 lines of enquiry for the investigation team to work through," the Met said.
"Despite exhaustive efforts, officers were unable to trace the individuals."
Initial attempts to catch Mr Lawrence's killers were found to have been hampered by incompetence and institutional racism in the Metropolitan Police.
No arrests were made for two weeks after his death, despite five suspects being named by anonymous informants.
Dobson and Norris were among a group of up to six men accused of attacking Mr Lawrence and Mr Brooks. Critics of the case say others evaded justice.
The Macpherson Report into the investigation into Mr Lawrence's death found that there had been "institutional racism" in the police.