Fishmonger's Hall attack: Prevent officers for Usman Khan 'lacked training'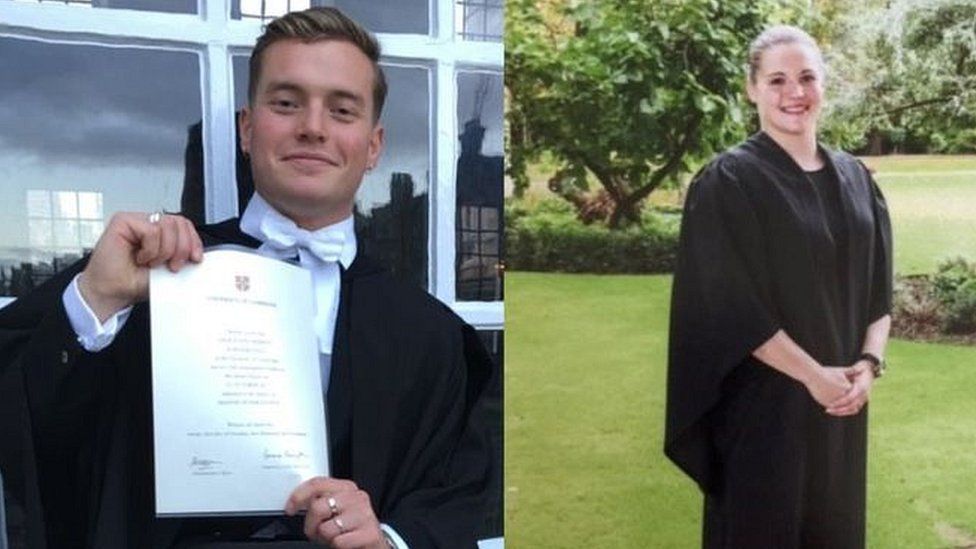 Prevent officers tasked with monitoring the man who killed two people in the Fishmonger's Hall attack had "no specific training" in handling terrorists, a court has heard.
Convicted terrorist Usman Khan fatally stabbed Cambridge graduates Jack Merritt and Saskia Jones at prisoner rehabilitation event on 29 November.
He injured two others before he was shot dead by police on London Bridge.
A pre-inquest review hearing was held at the Old Bailey on Friday morning.
The full inquest into the deaths of Mr Merritt and Ms Jones is expected to take place next April - and one for Khan will follow after.
Nick Armstrong, a lawyer for Mr Merritt's family, suggested there was already evidence of a "systemic problem".
He said officers in Staffordshire who were handling Khan had said they had "received no specific training in dealing with terrorist offenders".
Henry Pitchers QC, for Ms Jones's family, said the question was not whether Prevent or probation knew there was a risk but whether they "should have had an inkling".
Khan was "assessed as the highest level of risk" when he was allowed to leave prison - less than a year before the attack - and "had 22 licence conditions attach to his release," Mr Pitchers told the court.
He said the last visit by police officers to Khan's home in Stafford was two weeks before the attack.
The flat was dark, and Khan opposed the officers photographing his Xbox and asked them to leave, which they did.
But this does not appear to have raised suspicions, Mr Pitchers said.
He also raised the issue of security at the Learning Together event where the attack took place.
"There was no security check at the door," he said. "Not even a rudimentary bag check."
At the pre-inquest review Jude Bunting, representing Khan's mother Parveen Begum, said: "Mrs Begum and her family were deeply shocked by the events.
"Mrs Begum still finds it hard to believe such terrible damage was caused by her son.
"They condemn Usman Khan's actions"
"They want to better understand how this tragedy happened. How a family member who they thought was reformed, committed this atrocity."
The court heard the Counter Terrorism Command of the Metropolitan Police does not think anyone else was involved in the attack.
Chief Coroner Mark Lucraft QC was told a toxicology investigation of Khan's body found evidence of "the occasional use of cocaine" in the period leading up to his death.
Khan had recently been released from a prison sentence for terrorism offences when he attended the Learning Together event at Fishmongers' Hall in the City of London.
Ms Jones's family's legal team opposed an application by Khan's family that they should have "interested party" status at the inquest into her death and that of Mr Merritt.
They also opposed Khan's family having legal representation in the inquests.
Mr Armstrong, representing Mr Merritt's family, also opposed the applications.