Mary Wollstonecraft statue: 'Mother of feminism' sculpture provokes backlash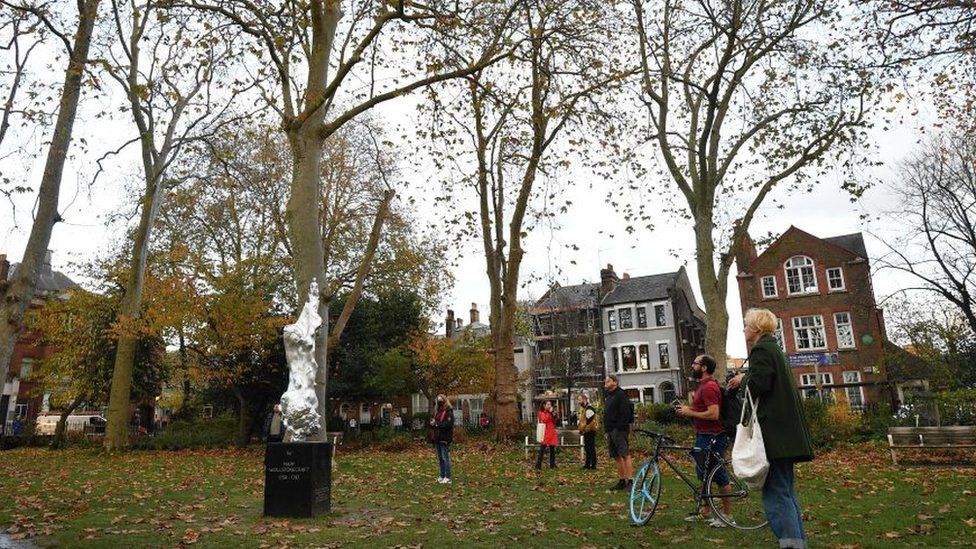 A memorial to the "mother of feminism" has provoked an online backlash after being unveiled in north London.
The sculpture for Mary Wollstonecraft, by artist Maggi Hambling, went on display on Newington Green, Islington, on Tuesday.
Born in London in 1759, Wollstonecraft was an 18th Century author and radical who promoted the rights of women.
The silvered-bronze sculpture has drawn criticism from some who have queried the inclusion of a naked female figure.
Bee Rowlatt, chairwoman of the Mary on the Green campaign for a statue, said: "Her ideas changed the world. It took courage to fight for human rights and education for all.
"But following her early death in childbirth, her legacy was buried, in a sustained misogynistic attack. Today we are finally putting this injustice to rights.
"Mary Wollstonecraft was a rebel and a pioneer, and she deserves a pioneering work of art.
"This work is an attempt to celebrate her contribution to society with something that goes beyond the Victorian traditions of putting people on pedestals."
The unveiling is the culmination of a decade of campaigning to raise the £143,000 required to create the statue.
It portrays a silver female figure emerging from a swirling mingle of female forms.
More than 90% of London's monuments celebrate men, despite the population being 51% women, according to the campaign.
However, it has been met with criticism for its symbolic depiction of a female figure, rather than being a lifelike representation of Wollstonecraft.
Some have also queried the decision to make the figure naked.
Writer Caitlin Moran claimed a better representation of a naked "everywoman" would be of "Wollstonecraft dying, at 38, in childbirth, as so many women did back then - ending her revolutionary work."
"That would make me think, and cry," she tweeted.
The BBC is not responsible for the content of external sites.
Skip twitter post by Ruth Wilson
Allow Twitter content?
This article contains content provided by Twitter. We ask for your permission before anything is loaded, as they may be using cookies and other technologies. You may want to read Twitter's cookie policy, external and privacy policy, external before accepting. To view this content choose 'accept and continue'.
The BBC is not responsible for the content of external sites.
End of twitter post by Ruth Wilson
Writer Tracy King tweeted: "There is no reason to depict Mary naked unless you are trying to be edgy to provoke debate.
"Statues of named men get to be clothed because the focus is on their work and achievements.
"Meanwhile, women walking or jogging through parks experience high rates of sexual harassment because our bodies are considered public property."
Caroline Criado Perez, who campaigned for Jane Austen to appear on the £10 note, said the statue "feels disrespectful to Wollstonecraft herself".
Historian Simon Schama wrote that he "always wanted a fine monument to Wollstonecraft - this isn't it".
Who was Mary Wollstonecraft?
Wollstonecraft was born into prosperity in 1759, but her father, a drunk, squandered the family money.
Like her mother, she often suffered abuse at his hands.
As a woman, Wollstonecraft received little formal education but she set out to educate herself and at 25 opened a girls' boarding school on Newington Green, near the site of the statue.
Wollstonecraft was 33 when she wrote her most famous work "A Vindication of the Rights of Woman" which imagined a social order where women were the equals of men.
She mixed with the intellectual radicals of the day - debating with Benjamin Franklin, Thomas Paine and Joseph Priestley.
She died aged 38 following the birth of her daughter, the author Mary Shelley.
Ms Hambling has hit back at those who criticise her art work.
She said: "This sculpture encourages a visual conversation with the obstacles Ms Wollstonecraft overcame, the ideals she strived for, and what she made happen."
The Suffolk-based artist said her critics "are not reading the word, the important word, which is on the plinth, quite clearly 'for' Mary Wollstonecraft, it's not 'of' Mary Wollstonecraft.
"Clothes define people and restrict people, they restrict people's reaction. She's naked and she's every woman.
"Most male historic statues are way over life-size. My point was that the female figure doesn't need to dominate to be powerful.
"It's been compared to a rocket of hope going up to the sky, tracking the fight for female empowerment Wollstonecraft started."
Others have praised the statue. On Twitter historian Dr Fern Riddle said she "loved" the design.
"It reminds me of Metropolis crossed with the birth of Venus," she said.
"I don't see 'me' in that figure, but I wouldn't see 'me' in a figurine of a fully dressed Mary either. I just like that it's here, and that anyone can interpret it how they want."
"She's a lot weirder and ickier and more surreal than most [people] realise," Dr Coulombeau said.
"I think Hambling gets that."
Related Internet Links
The BBC is not responsible for the content of external sites.