Homelessness: Number of people living rough in London up by 23%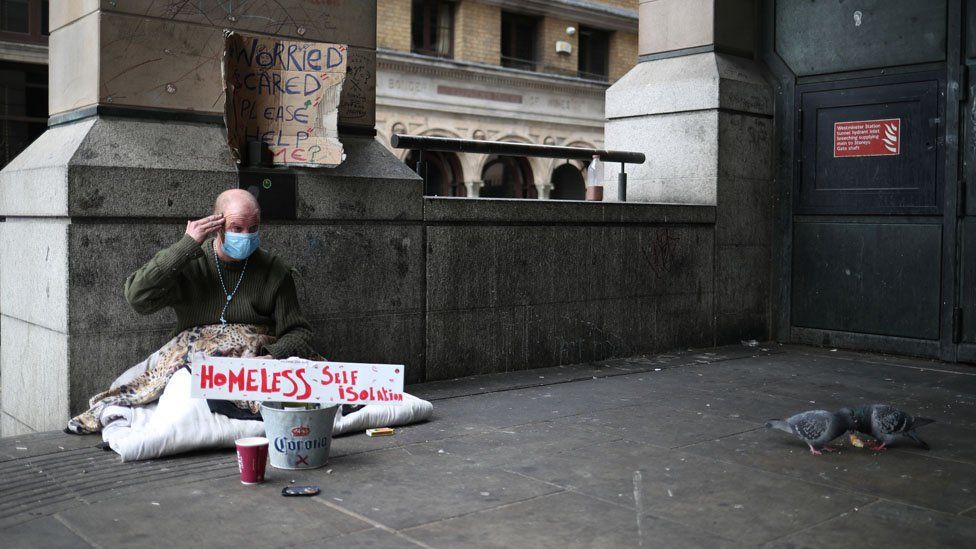 The number of people permanently living rough on London's streets increased by nearly a quarter in three months, figures have shown.
The data shows there were 412 people living on the streets between October and December 2020, compared to 336 during the three months before.
There was also a rise in the number of people occasionally sleeping rough, although there were fewer than in 2019.
Homelessness charity Crisis said the figures "paint a worrying picture".
The data was collated by multi-agency database the Combined Homelessness And Information Network (Chain) and published by the Greater London Authority.
It shows a 23% increase in the number of people permanently living on the streets in the third quarter of the 2020-21 financial year, compared to between July and September.
There was also a 10% rise in the number of people who were seen occasionally sleeping rough but were not deemed to be a living on the streets - 1,360 compared to 1,239.
Nevertheless, the number of people living on the streets and those occasionally living rough between October and September were both 9% lower than during the same period in 2019.
Overall, 3,307 people were seen sleeping rough at least once, a 4% fall from the previous quarter when there were 3,444 people identified.
Steve Douglas, chief executive of homelessness charity St Mungo's, said the efforts in March had made a "real difference", but "homelessness is not a static issue and these statistics show that there is a still a flow of people coming to the streets".
Jon Sparkes, chief executive of Crisis, said the "statistics paint a worrying picture of homelessness across our capital", especially since they were "against the backdrop of rapidly rising coronavirus cases and temperatures dropping".
London's mayor Sadiq Khan called the figures a "national disgrace" and called on the government to "redouble their efforts to give all those who are sleeping rough a settled home".
A spokesperson for the Ministry of Housing, Communities and Local Government said the department was continuing to work with councils, charities and other partners to protect the most vulnerable.
The spokesperson added that the government had "provided an unprecedented package of support, with over £700m this year to tackle homelessness and rough sleeping for good, and we will continue our ambitious plans with a further £750m next year".
Related Internet Links
The BBC is not responsible for the content of external sites.