Noel Park estate renovation costs leave residents 'trapped'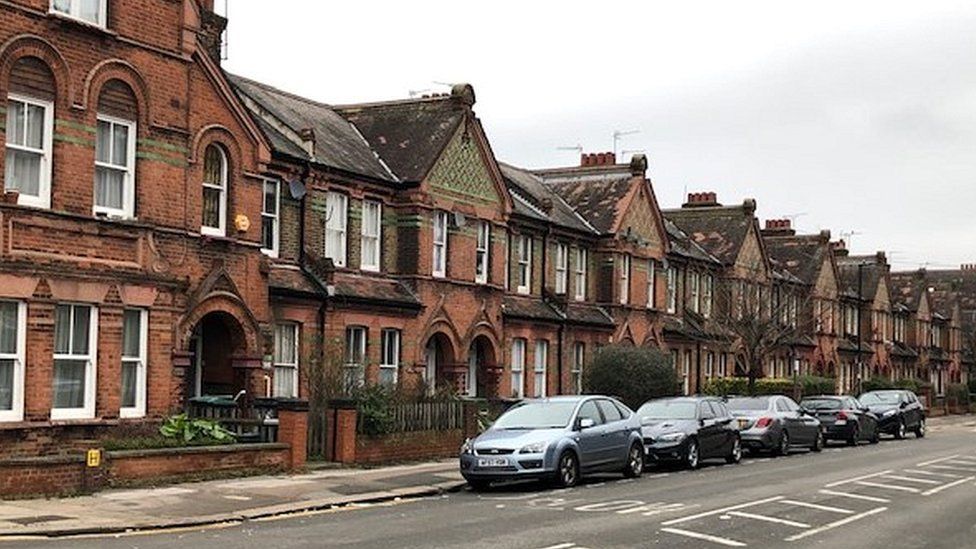 Leaseholders living on a north London council estate say planned renovation works on their buildings will leave them "trapped" in "unaffordable" homes.
Changes will be made to both council and leaseholder-owned properties on the Noel Park estate in Wood Green.
Some owners have received estimates saying they will have to pay about £100,000 for their share of the work, which they have called "unaffordable".
Haringey Council said it had "a duty to maintain... the buildings".
The £11.3m programme will see bathroom pods that were built in the 1970s replaced with modern facilities. Kitchens, windows and roofs on the properties will also be changed.
The estate is made up of a mix of buildings occupied by council tenants and properties owned by leaseholders.
In January, the council agreed that the work on council-owned properties would take place first while further discussions would take place with leaseholders about renovating their buildings.
However, leaseholders said estimates they had received for the required renovations meant they were now unable to either sell or remortgage their properties, and faced the prospect of paying huge bills in the future.
Sarah, who bought her a maisonette on the estate with her partner five years ago, said the "devastating" estimate they had received of £108,450 meant they were now "trapped".
"People are stuck until they get the bill for when the work is done.
"We face a huge debt which we'll be paying until we retire... It's horrible to feel we can't plan for the future," she said.
Ewan MacDonald, who lives in a flat on the estate with his partner and three-year-old child, bought their property in 2016.
He said at the time they were told by the council repair work would probably be less than £40,000, but at the end of 2020 they received an estimated bill of £90,000 which would be "impossible" to pay.
"It's an unimaginably large amount of money. The mental impact on us has been massive and left us stressed and unable to sleep," he said.
He added that the renovations should have taken place 20 years ago but delays had meant that leaseholders now faced "insane costs".
Haringey Council leader Joseph Ejiofor told the BBC the work "should have been done a few years ago" but they were only "now in the position to do it".
He said the council "have a duty to maintain the fabric of the building and to renovate appropriately" while the leaseholders "have a duty to pay their fair share".
Mr Ejiofor added that they would "work closely with leaseholders" to find a way for the work to be affordable, but the renovations will "make for a better home... which will be much easier to sell when the time comes".
Related Internet Links
The BBC is not responsible for the content of external sites.