Croydon violence epicentre: A better future for troubled road?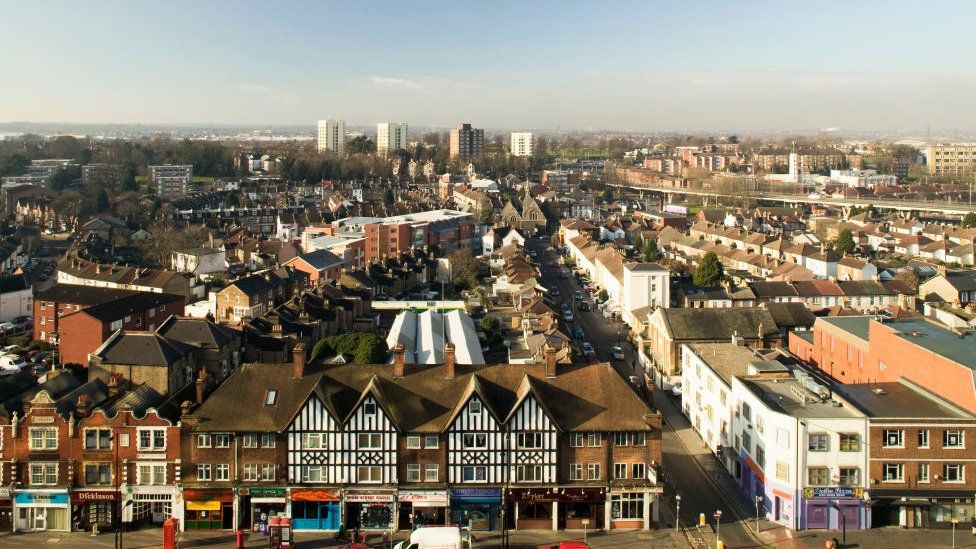 There's a cluster of about 30 streets around the London Road in Croydon deemed to be the epicentre of violence in the borough. Violence that on one bloodstained weekend in February saw two young men stabbed within the space of 24 hours.
Violence that Met Police Sgt Matt Ratana was working to tackle, before he was shot dead at a custody centre, not too far away. Drugs are sold openly along a 200m (650ft) stretch of road leading from West Croydon station, with dealers relying on "spotters" to warn them of any approaching law enforcement.
Now, grassroots projects in this small pocket of London have been awarded £750,000 from the MyEnds project, funded by City Hall's Violence Reduction Unit.
There were 1,135 recorded crimes in the area in the 12 months to September 2020, an increase of 13% on the previous year.
Anthony King, a community activist and youth mentor, says these sometimes devastating outbreaks are fuelled by a volatile mix of deprivation and a lack of opportunities.
He believes the number of gangs operating here has grown from "four or five" a couple of years ago to "upward of 20" now. He says the nearby Home Office Visa and Immigration Centre, as well as quick transport links from Kent's cross-Channel ports, has seen large numbers of unaccompanied minors and undocumented immigrants arrive in the area - some of whom are exploited before they can move on.
A new style of application process meant charities and community groups could band together and, rather than bid against each other, pitch jointly for funding.
The London Road consortium plans to use the money to help families and create opportunities for young people, Mr King said.
"The funding is not for the regeneration of London Road, it's not even for gentrification, it's about how we can impact the community. The model we've used is completely different, it's community-led."
The hub for that work is a community centre run by Croydon Voluntary Action. It hosts dance classes, family support groups and a food bank.
In the summer of last year it offered space to the Met Police. The force's Basic Command Unit (BCU) commander, Ch Supt Dave Stringer, says this helped to improve the Met's response to February's violence. Not only were 30 knives seized and 60 arrests made, but community relationships with officers were greatly improved, he said.
A group of young men, including 17-year-old Romario, discussed stop- and-search and cultural perceptions with Met staff.
"We coached [the officers], told them about the culture, to create a bridge and a mutual understanding. And after there was a football game between us and the police."
Mr King acknowledges bringing the police into this community space was a huge step. The work began in the summer when young people gathered in a nearby park during the Black Lives Matter protests.
"Young people were screaming out about stop and search, very angry, and the only way I felt personally that we could look at the challenges was to get the young people to have a conversation with the Metropolitan Police," he said.
Consortiums awarded MyEnds funding:
Brent - Estates in Chalk Hill, Stonebridge and Church End
Lambeth - Angell Town, Loughborough and Moorlands estates
Croydon - London Road
Hackney - Hackney Wick, Marsh Hill, Homerton
Haringey - Tottenham Hale ward
Newham - Canning Town North, Custom House, Plaistow South ward - with a focus on the Barking Road
Southwark - North Peckham estate, Rockingham, Brandon and Aylesbury
Tower Hamlets - Four neighbourhoods in the Isle of Dogs - Island Gardens, Blackwall and Cubitt Town, Canary Wharf and Poplar
London's Violence Reduction Unit will deliver £6m in funding over two years.
Shopkeepers on the London Road said although they welcomed this community engagement, crime still blights their businesses. An alley next to one café is a known hiding place for dealers to stash their drugs. The owner of the passageway used to be sceptical of the police but now he's given them permission to patrol there.
Pharmacist Fola Sotubo has worked on London Road for 20 years. He says he's seen promises of funding and improvement come and go before. There was a surge of interest in the area after the London riots in 2011. This time he wants to see consistency.
Teenager Romario is more optimistic: "It's a very 50-50 area, you have the greats and the funnies and you have the bads.
"Croydon as a whole is a community that's trying to put the past in the past and trying to bring a nice future and make it one of the best boroughs. It's a very long way to get there, it's a long road, but we're getting there."
Related Internet Links
The BBC is not responsible for the content of external sites.