London Euston cat-astrophe averted for train-surfing puss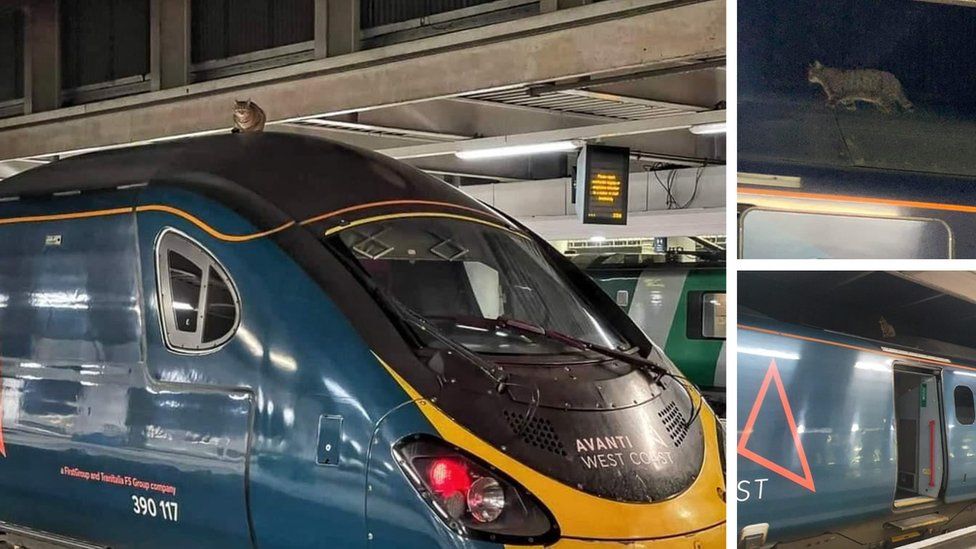 A cat narrowly avoided disaster after being spotted on the roof of a train as it prepared to depart.
The tabby was seen on an Avanti West Coast train at London Euston, about half an hour before it was due to leave for Manchester at 21:00 GMT on Tuesday.
Passengers were transferred to a replacement train as station staff coaxed the cat from the Pendolino, which travels at speeds up to 125mph.
It took two and a half hours for the cat to move from its perilous perch.
The stand-off came to an end after a bin was pulled up beside the carriage, giving the moggy its own special disembarkation platform.
The cat did not appear bothered by its brush with danger, said its rescuers, who described it as "swaggering off" with the air of having somewhere else to be.
In addition to the danger of falling off a speeding train, they are powered by 25,000-volt overhead lines.
Joe Hendry, Network Rail station manager for Euston, said: "Thankfully curiosity didn't kill this cat, and we're glad it avoided using up one of its nine lives".
Related Internet Links
The BBC is not responsible for the content of external sites.