Sarah Everard vigil: Woman 'was ignored by police' over exposure report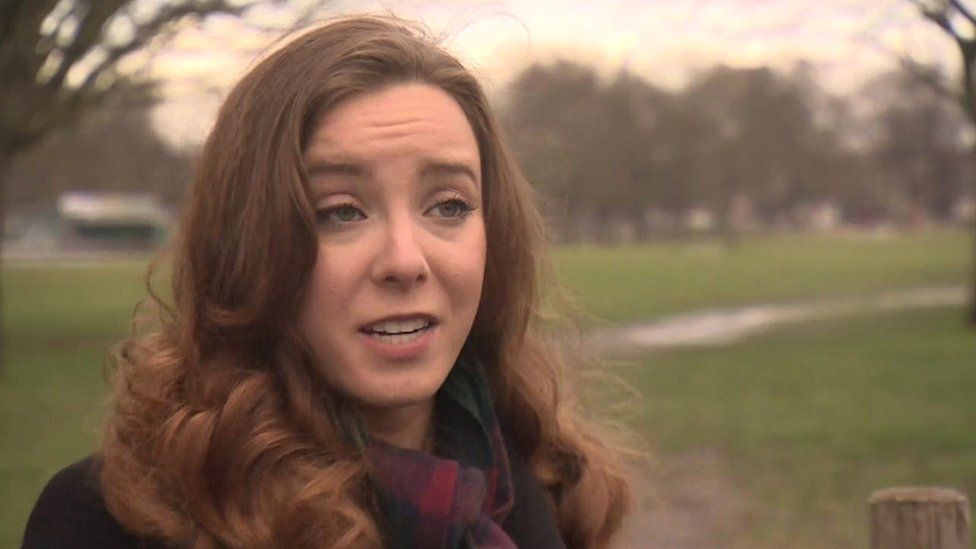 A woman who attended a vigil for Sarah Everard in south London says she was ignored when she tried to report a case of indecent exposure to police.
Georgina was on her way home from Clapham Common on Saturday when she was confronted by a man exposing himself.
She told the BBC she tried to speak to a group of police but a male officer told her they had "had enough with the rioters tonight".
The Met Police said it was looking into the report.
Georgina, who only wants to be known by her first name, was among hundreds of people who had gathered to pay their respects to 33-year-old Ms Everard, who went missing while walking home from a friend's house on 3 March.
On her way, she said she walked past a man who was standing on a pavement with "his genitals out of his fly".
She told the BBC she went up to a group of "about five or six police officers" to ask them if they could address the situation as she was feeling "very uncomfortable".
"The female officer said 'ok, fine, we'll go' and she was about to go when a male colleague said 'we're not dealing with this anymore, no, we've had enough with the rioters tonight, we're not dealing with it'," she said.
She added she had been left "shocked" by the police's reaction.
"It's such a huge challenge that women don't feel they have a safe space to even speak on these things let alone that these things even happen and continue to happen," she said.
Two female officers from the Met have since visited Georgina and the force has said it was looking into her report.
"We are aware of a report that she tried to report this incident at the time to officers in the area - this will be looked at," the Met said.