Covid: Concerns over 'queue jumping' for vaccine in London
By Guy Lynn
BBC News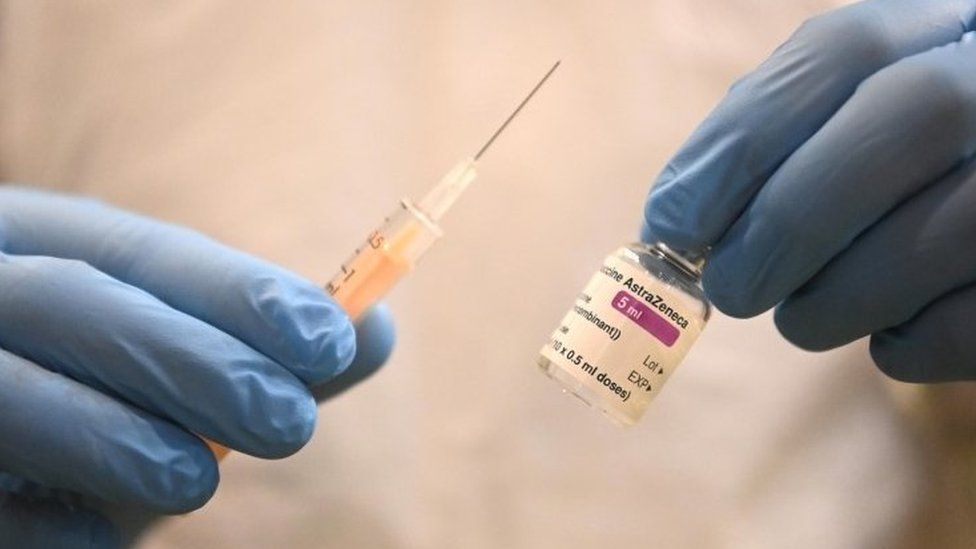 People are attempting to jump the queue for the Covid vaccine, BBC London has been told.
Several vaccination centres have said many people are falsely claiming they are front-line health or social care workers when they book an appointment.
One London pharmacist said he is having to turn away "dozens" of people a week who have lied about their eligibility.
NHS England say official proof is required when people are booking online.
You can book a Covid vaccine if you are a front-line health or social care worker regardless of age using the 119 phone number or the official NHS Covid vaccination site.
It states that vaccination centres do require proof, such as a employer's letter or a payslip, but some staff are finding it difficult to enforce this.
Pharmacist Ash Soni, who is on the English Pharmacy Board and leads a Covid-19 vaccination clinic in south London, said: "We're definitely seeing cases where people are using the national booking form, who have lied on their booking form, and we're having to police that and that's not a nice place to be. We're not the police.
"From our point of view it would be much better if, through either the national booking system or when people ring 119, there were ways that this is checked and we are sure when people come they have met the criteria.
"Then, all I have to worry about is making sure they're comfortable, confident and they're clinically appropriate for me to vaccinate."
He added: "We are turning away dozens of people every week who don't meet the criteria, that are effectively trying to jump the queue.
"I had someone claiming to be a pharmacist. I asked him for his registration number, at which point he decided to phone a friend."
Mr Soni, a former president of the Royal Pharmaceutical Society, says some people become aggressive if they are refused vaccination because they cannot prove they are a front-line worker, or their age.
"I know colleagues in other places who say they have had to call the police on occasions to get them to leave," he added.
The BBC has been told some centres are vaccinating people anyway, even if they do not have the proof, because they do not want to see valuable stock being wasted.
Alison Coutinho, who was queuing to enquire about leftover vaccines at Copes Pharmacy, said: "I do feel I've had to wait longer because of other people managing to find other ways to get themselves up the system, which may not be the most honest or with its integrity intact."
Asked about the problem, Martin Machray, the joint chief nurse for NHS London, said: "The online vaccination booking system provides guidance on front-line health worker eligibility, also stating that official proof will be required in order to be vaccinated on the day."
Related Internet Links
The BBC is not responsible for the content of external sites.