Catalytic converter thefts: Surge in cases reported to Met Police
By Guy Lynn
BBC News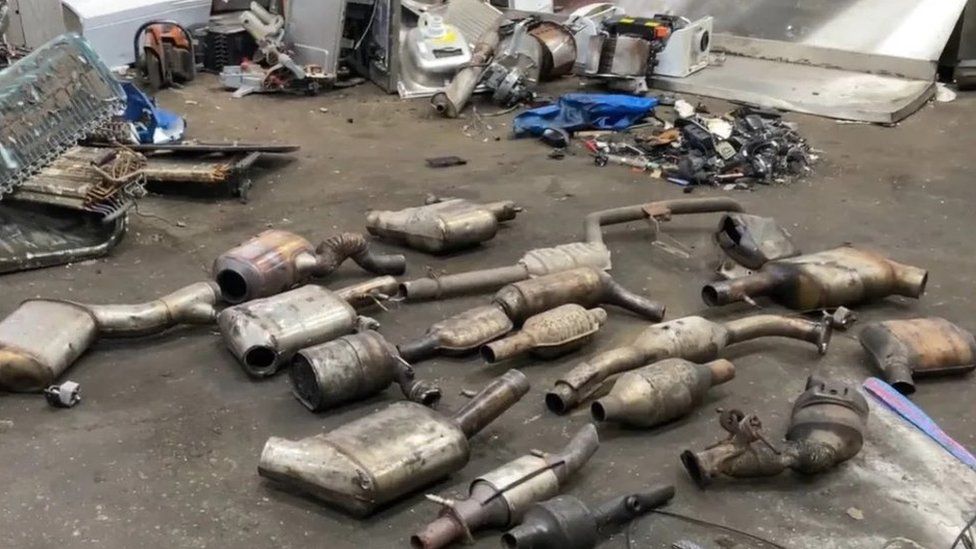 There has been a surge in the number of catalytic converters being stolen in London, with thieves becoming increasingly violent, police say.
The Met's motor vehicle crime unit investigated nearly 15,000 reports of such thefts in 2020, compared to 9,500 over the previous year.
The devices, which reduce the emission of pollutants, contain precious metals.
More than 300 officers took part in raids on Tuesday across east London, Kent and Essex.
They also intercepted a shipping container, believed to contain stolen metal and car parts, which was due to be transported to the Ivory Coast to be processed and refined.
Two men were arrested on suspicion of conspiracy to commit theft and a third on suspicion of theft.
A large number of catalytic converters and vehicles were seized by police, who also discovered cash, drugs and tools, including a smelting machine.
Det Ch Insp James Stanyer, the Met's lead officer for motor vehicle crime, said: "The criminals involved in stealing catalytic converters often commit their offences in full view of the owners of the vehicle and other members of the public, leaving them shocked and terrorised."
With more people at home because of lockdown restrictions, owners of cars parked on driveways are feeling increasingly vulnerable.
"People are feeling less safe, because of the way they're willing to use violence if necessary if uncovered or disturbed," Det Ch Insp Stanyer told BBC London.
It is believed a rise in prices of metals such as palladium and rhodium, commonly found in converters, triggered the increase in thefts.
Dedicated gangs are able to remove a converter from beneath a car in a matter of moments, leaving victims with a huge repair bill.
One victim, Mo Talukder from Islington in north London, must pay out £2,000 after four men targeted her car, with the theft witnessed by neighbours.
"They cut wires at the front of the car. When they were challenged, they threatened to ram anyone who spoke to them," she said.
"My car was the last thing I bought with my late father so it held a lot of sentimental value. It was horrible. It makes you angry. It's something I worked hard to purchase and people come along and helped themselves.
"It's absolutely disgraceful."
Related Internet Links
The BBC is not responsible for the content of external sites.