Pimlico Academy pupils stage protest over 'racist' uniform policy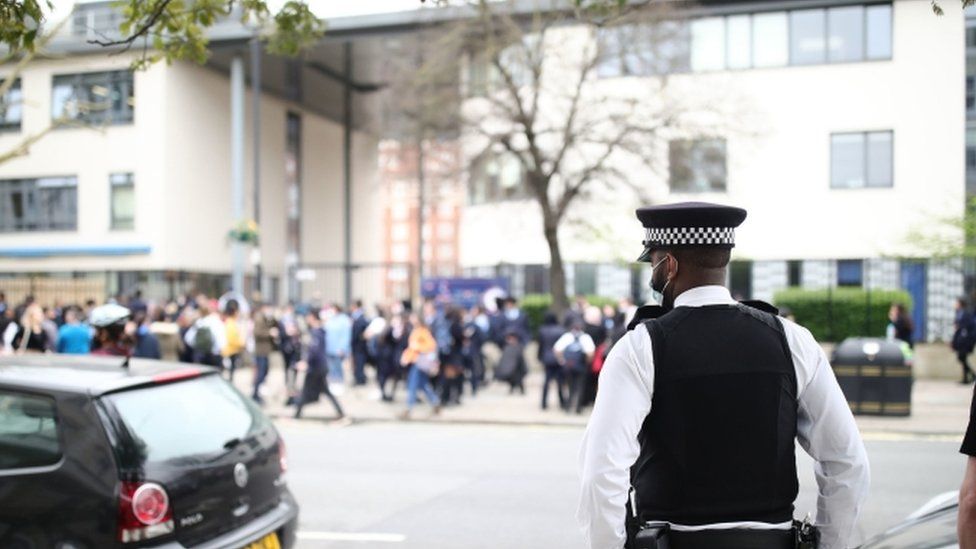 Pupils have staged a mass protest reportedly against the uniform policy of a central London secondary school.
Videos on social media show scores of pupils chanting "we want change" after walking out of Pimlico Academy early on Wednesday.
It follows students' claims Pimlico Academy discriminates against Muslim and black pupils.
The Westminster-based school said there was "regret" in the way matters "came to a head" publicly.
A statement purportedly on behalf of students railed against "racism, Islamophobia and transphobia" and said pupils were angry at a lack of recognition of the Black Lives Matter movement.
Tensions between Pimlico Academy's senior leadership and its parents and pupils, began in August 2020 when a new uniform policy was imposed.
Among the new rules affecting all pupils were a ban on afro haircuts which could "block the views" of other pupils in class.
The new policy also required Year 12 and 13 students to sport "formal business suits" where previously they were allowed to wear chinos and a collared casual shirt
The Local Democracy Reporting Service reported parents complained this placed a financial burden on them while many people had been put on furlough or been made redundant.
The Guardian newspaper reported up to 30 members of staff are considering whether to leave the school.
Futures Academies, which runs the school in Pimlico, Westminster, did not comment on the reported mass exodus of staff, but said "the majority of students" were in classrooms studying throughout the protest.
It added: "We want to take this opportunity to reassure parents that this is an isolated event, and we are working to resolve the issues raised.
"We apologise to all children, families and staff for the disruption today."
On Tuesday the National Education Union (NEU) passed a motion of no confidence in head teacher Daniel Smith and moved towards balloting for industrial action.
Regional secretary Pauline Buchanan said the decision was not taken lightly.
"This vote is in response to serious failures of management which members believe are bringing the school into disrepute," she said.
"As well as NEU members' trade dispute over the industrial issues, members have strongly expressed their solidarity with students' concerns and their desire for an anti-racist school."
Related Internet Links
The BBC is not responsible for the content of external sites.