Belly Mujinga: Call for police to release spitting suspect's name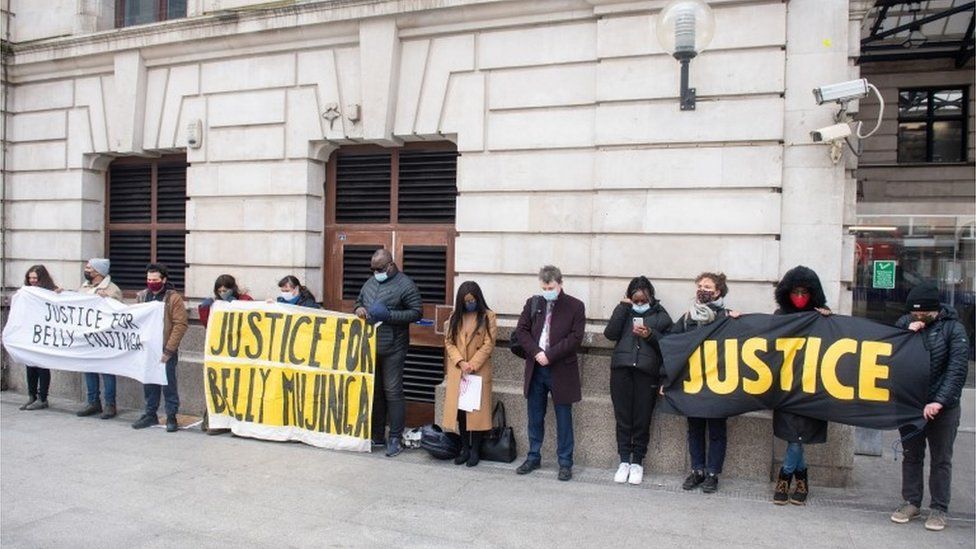 The family of a transport worker who died with Covid-19 after allegedly being spat on have called for police to disclose the suspect's name.
Belly Mujjinga, 47, died after she was reportedly coughed on by a customer.
British Transport Police (BTP) interviewed a man but said there was not enough evidence a crime took place.
Her family's lawyer said they had been preventing from pursuing a private prosecution or civil claim as the force had refused to name him.
Lawrence Davies said the force had "stonewalled me since September".
Earlier, a vigil was staged at London's Victoria Station - where Ms Mujinga worked - to mark the one-year anniversary of her death.
Those attending held a minute's silence at 11:22 BST, which was also observed by people at Brighton and Bedford stations.
Ms Mujinga had worked as a sales clerk at Victoria for Govia Thameslink Railway (GTR) since 2010.
In March last year, the transport worker and a colleague were involved in an incident on the station concourse with a male customer.
Ms Mujinga, who suffered from an inflammatory condition known as sarcoidosis, died with Covid two weeks later, on 5 April.
Detectives investigating the death spoke to a 57-year-old man but found there was insufficient evidence of spitting or another action that could lead to infection and concluded Mrs Mujinga's death did not occur because of that incident.
BTP asked the Crown Prosecution Service (CPS) to review the evidence and look into whether there were any further lines of inquiry, but prosecutors ruled out homicide charges.
CCTV footage of the interaction was said to not show conclusive evidence of a criminal offence, while results from a Covid-19 test on 25 March confirmed the had not had the virus.
DNA evidence from Ms Mujinga's clothing was inconclusive, while witness accounts did not provide a consistent enough picture to bring charges, according to the CPS.
Following the programme, more than 50 cross-party peers and MPs wrote to the prime minister demanding a public inquiry into her death.
Mr Davies said the family was seeking the suspect's name so they could consider suing him for harassment and assault and they had complained to the Independent Office for Police Conduct.
They are also considering a civil claim against GTR, he added.
Lawyers for Ms Mujinga's family and GTR have now put forward arguments at North London Coroner's Court as to whether an inquest should be held.
Ms Mujinga's husband said she was a "very good person, a wonderful wife at home and a very good mother" who was "terribly missed".
Sonali Bhattacharyya, from the Justice for Belly campaign group, said: "We're here today on the first anniversary of Belly Mujinga's death, united in anger and grief.
"A year on, and her family still have no answers. They still wait for justice."
Manuel Cortes, general secretary of the Transport Salaried Staffs' Association, said: "Belly's death touched our entire union and far beyond. Public scrutiny is now needed to fully illuminate this tragic case."