Buckingham Palace 'overwhelmed' at demand for garden picnic tickets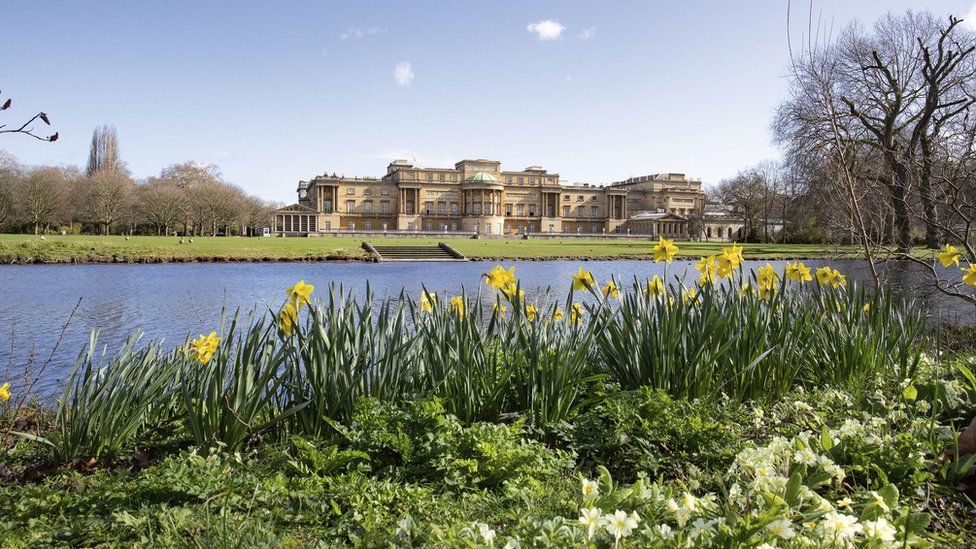 Visitors to Buckingham Palace will be allowed to wander around its gardens unguided for the first time, the Royal Collection Trust (RCT) has said.
The traditional summer opening of the palace's state rooms, which normally attracts thousands, has been cancelled for a second year due to the pandemic.
Demand for garden visit tickets - priced at £16.50 for adults and £9 for children - is so high that customers must enter an online queuing system.
The RCT said it was "overwhelmed".
Thousands of people have been queuing online for tickets with a wait time "of more than an hour".
The visits, which will take place between July to September, will give the paying public the chance to explore the Queen's private 39-acre grounds, as well as picnicking on the lawn.
The grounds were originally landscaped by Capability Brown, but the current landscape dates back to the 1820s when George IV turned Buckingham House into a palace.
Today, the land is home to a rich and biodiverse habitat, with more than 1,000 trees and 320 different wildflowers and grasses.
Since 2000, the grounds have also housed the National Collection of Mulberries.
Visitors will be able to explore a 156-metre long herbaceous route through the garden and view the plane trees planted by and named after Queen Victoria and Prince Albert.
Barbecues, ball games and alcohol will be forbidden though.
An RCT spokeswoman said: "The traditional opening of the State Rooms at Buckingham Palace will not take place this year.
"We anticipate that social distancing will still be in place this summer and that visitor numbers to London will be low for some time yet due to the uncertainty around domestic and international travel.
"The costs incurred opening the palace to the public in the usual way would be far greater than the visitor admissions and retail income that we could expect.
"However, we are delighted to offer unique access to the Buckingham Palace garden this year as an alternative."
Related Internet Links
The BBC is not responsible for the content of external sites.