Lockdown houseplant trend captured by London photographer
By Sarah Lee
BBC News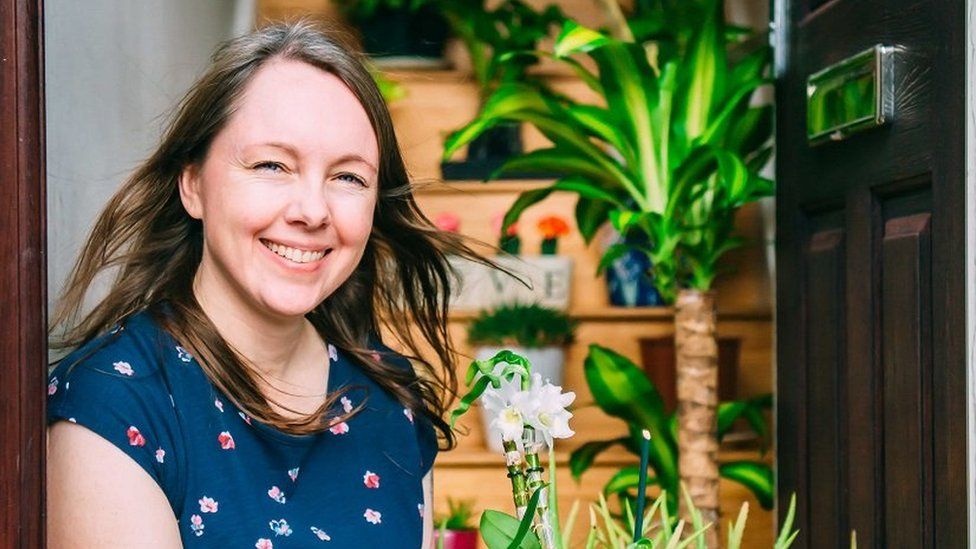 A photographer whose work has been put on hold due to the coronavirus pandemic has taken to the streets of south London to document people's ever-growing lockdown plant collections.
Akiko DuPont was inspired to examine her neighbours' newly acquired green fingers - whether in the form of home-grown vegetables or botanical-themed living room transformations.
"My best friend suddenly turned from someone with a brown finger into a serious plant bug," she says.
"However, it turns out that it's not just her. So many people have become plant-obsessed during lockdown. And it's not just one or two plants, but crazy amounts."
As a curious soul, Akiko, who is from Southwark, began interviewing the "houseplant-crazy" people in her neighbourhood.
She also took what she calls their "plantraits" - portraits of the subject with several of their favourite plants - at their doorstep.
"We have heard so much about loss during the Covid-19 pandemic, but hopefully this project helps document a positive aspect of London lockdown life."
'One year on, I have a jungle!'
Joy, who started a plant club through social media, was one of Akiko's first subjects.
"Plants are therapy. They have such an amazing way to heal and bring us renewed hope," she says.
"They are beautiful, weird, and everything. They are giving.
"Just the joy of a new leaf unfurling is enough to give me hope. And my new-found plant community - I didn't realise how social plant-caring was, and it's helped counterbalance the isolation during lockdown.
"Plants have such an amazing way to heal and bring us renewed hope. They are beautiful, weird, and everything."
Setting up the social media group provided Joy with social contact - although not physical - as well as helping her mental health.
"It gave me a reason to meet people and give them plants, which made people really happy.
"Before lockdown, I didn't care about plants that much, but then I started to really like taking care of them.
"One year later - I have a jungle!"
'Plants are really good for mental health'
James, who was photographed on his doorstep by Akiko, says lockdown inspired him to reconnect with nature.
"I think plants are really good for mental health. It's something that connects you to nature and also gives you a reason to dive deeper into it as well," he says.
"My first plant was a spider plant and I just watched it grow and I thought, 'oh my God that's amazing'."
"It's so important right now to reach out to the people in our community for help and offer the same, whether we're checking in or meeting for a distanced plant swap."
'I needed the human connection'
Natalia says lockdown has allowed her the time to really take care of her plants.
"It has given me the opportunity to properly focus on them and because you have more time, you can take care of them more in detail - check their soil, check their leaves.
"When you can give them proper attention, it's amazing. It's exciting."
She explains that finding fellow plant lovers online has given her a special sense of community.
"It's so nice to see the actual connection that's going on in the area. It's something fun and lovely and this human connection is something that I desperately needed after going through these lockdowns."
'It brightens up your mood'
Prashant says that coming home to a house full of plants after a day working at a busy London hospital "brightens up his day".
"It's really nice coming home and seeing the plants doing well," he says. "It brightens up your room a little bit, and just brightens up your mood a little.
"Also because right now you can't really see your family or friends, so having some plants to take care of gives you some more love and joy."
'Looking after plants is like looking after yourself'
Dan likes to buy plants to mark important life events and to wish others good health.
"My dad got sick and I couldn't go back to China because of lockdown, but I bought a lily and tried to look after it for him," she said.
"Then I realised that looking after plants is like looking after yourself. For instance, sometimes the plants can look sad because I forgot to water them or had a hard week, been busy with things, and I realised that the state of my plants are the state of myself.
"I treat my plants well and in return, they bring me lots of pleasure."
Related Internet Links
The BBC is not responsible for the content of external sites.